Brother James Brown Craven is one of those unsung heroes of Scottish Freemasonry about whom very little has been written.
This is very unfortunate, as he was clearly a very learned man and Freemason, who left behind a wonderful canon of work which included Masonic subjects, but which mainly concerned his historical and ecclesiastical interests.
Rev. Craven was also a great scholar of notable members, or reputed members, of that mysterious 17th century secret society known as the Rosicrucians.
Early Life and Background
Craven's former home in Bon Accord Street, Aberdeen
Craven was born at Lindsaylands House, Biggar, in Lanarkshire, Scotland, on 13 June 1850.
He was the second son of the Rev. John Eldridge Craven and his wife Helen Brown, of Currie, Midlothian. Craven's mother was a daughter of Captain Walter Brown of Currie, and a relative of the famous Gilbert Burnett, Bishop of Salisbury; and also of David Hume the historian.
A relative on his father's side was the Rev. Thomas Craven a minister of Newhills, Aberdeen, prior to the 'glorious Revolution' of 1688, who was dismissed and imprisoned due to his adherence to the Episcopal Church.
Evidently, history, writing, and religion coursed through the family's veins.
His father had for many years been Minister of the Free Church of Newhills in Aberdeen, and at the time of our subject's birth in Biggar, the family were only in temporary residence there for reasons relating to ill health in the family.
John Craven Snr., had first been licensed to practice in the ministry by the established Presbytery at Haddington, but subsequently joined the Free Church at the 'Disruption', [1] and was posted to Newhills in 1844.
In July, 1850, the family returned to Newhills, where young Craven attended the local school, before attending the Grammar School in Aberdeen. On completing Grammar School, he studied law at the Faculty of Law at Marischal College, Aberdeen.
On completion of his studies he served a law apprenticeship under Mr A. Emslie Smith, an advocate in Aberdeen. [2]
In an apparent change of heart, Craven turned his attention to religion and the church.
He was confirmed in St. Paul's Episcopal Church, Aberdeen, on 2 April 2 1873. A voracious reader, Craven pursued his researches into the history of that branch of the Protestant faith and its church, and became increasingly convinced by its teachings and principles.
In time, he made contact with Rev. J. S. Falconar, who was a much respected and learned Minister, who appears to have served to strengthen Craven's religiosity.
Craven took up a position as a Lay Reader at St. John's Church, Aberdeen, which was Falconar's charge for a short period.
He was ordained as Deacon by Bishop Suther on 29 September 1875, a day often referred to in ecclesiastical circles as St. Michaelmas Day.
In October 1875, almost immediately following his ordination, he became Deacon-in-charge of the Episcopalian mission at Kirkwall, on the island of Orkney.
On 30 July 1876, he was promoted to the priesthood having distinguished himself in exams set for him on various post-related subjects.
This set Craven on a long and fruitful association with the church in that far-flung island off the north-east coast of mainland Scotland.
He was installed as the incumbent Minister at St. Olaf's church in Kirkwall and is credited with involvement in the progress of the church on the island for almost half a century.
On his arrival in Kirkwall, the congregation of St. Olaf's was very small, and was struggling, but Craven was 'so faithful, wise, and loving in his ministrations', that the numbers gradually built up, and he became a very popular, well loved and respected figure in the community.
St. Olaf's Church, Kirkwall, Orkney
The Episcopalians had held regular church services in Kirkwall up until 1790, but from that year until 1871, the services became occasional.
In the latter year, a mission service was started up in the old Drill Hall, and on acquiring his services, Craven preached his sermons initially in an old hospital in Back Street, Kirkwall.
The new St. Olaf's church in Kirkwall was opened in 1876, and was consecrated in 1878, and a suitable Rectory, which became the home of Craven was built.
During Craven's tenure in office a number of private chapels were established on the island, at Balfour Castle, Graemeshall, Nisthouse, and Melsetter, and in addition to his regular duties, Craven administered Holy Communion there from time to time.
It would seem that the church went from strength to strength under Craven's leadership, and congregations increased.
Ancient office of Archdeacon
A Bishop Mitchell, who like Craven himself, was a scholar and historian, had a desire to reinstitute the ancient office of Archdeacon in the Scottish Episcopal Church.
His desire to do so was prompted by his readings of the works of John Dowden and James Craven, who were both prominent historians in the ecclesiastical field and who both referred to such a position in their works.
Mitchell raised the possibility with the College of Bishops and they agreed to restore this 'symbolical' office to the Diocese of Orkney.
Orkney had a rich history of its own, but had merged with the Diocese of Aberdeen in 1856. Craven was elected to fulfil this role, and he was installed into that office by Anthony, the Bishop of Aberdeen and Orkney at a formal ceremony held at Edinburgh Cathedral on Saturday, 12 January 1913.
As Orkney was a relatively quiet part of the country, this gave Craven the opportunity to indulge his other passions, prime of which was his interest in ecclesiastical history indeed, history in general.
Craven was a very able researcher and recorded his researches in a number of books. It is probably fair to say that the subject of his researches were of narrow interest and were unlikely to make him rich or famous; but this was the least of his considerations.
According to Craven, the vital purpose of research was to have it recorded meticulously for the benefit of those future generations who would identify with his own interests.
Craven had a very strict criterion towards research. Superficial knowledge was inadequate, and nothing less than a deep knowledge of his subject would suffice.
What might be described as Craven's Magnum Opus, was his The History of the Church in Orkney, which ran to several volumes.
This covered the history of the church from the first appearance of Christianity on the islands, to the Revolution of 1688, on down to 1912.
An example of his meticulous attention to detail is found in the appendices to these books, which indicate the many original documents he consulted during the course of his research.
In his quest for truth and accuracy, Craven did not overlook the failings of the church and its dignitaries over the years, particularly in the centuries prior to the Reformation.
Craven's interest in the positive as well as the negative aspects of human nature, gleaned from his own experiences of them, always ensured that his account of history was impartial and trustworthy.
His past experience within the legal profession also provided him with that forensic eye for detail, which undoubtedly assisted him in his written work.
Craven's writing largely concerned church matters, and he wrote several other works on a smaller scale, including: Church Life in South Ronaldsay and Burray. In 1908, during a graduation ceremony held within their Mitchell Hall, he deservedly received the honorary degree of 'Doctor of Divinity' from Aberdeen University, in recognition of his service to ecclesiastical history. [3]
Rules and catalogue of the Orkney Library. Instituted 23d August 1815. Orkney Library (Kirkwall, Scotland), Kirkwall Press, 1844.
Another of Craven's notable achievements was in relation to his involvement with what became known as The Kirkwall Bibliotheck.
This was originally a collection of books of an ecclesiastical and historical nature gathered by William Baikie of Holland estate on the Orkney island of Stronsay, a younger son of James Baikie of Tankerness, Orkney.
The books were mainly from the sixteenth and seventeenth century, and originated not only within Britain, but also continental Europe.
Some related to significant religious figures such as Protestant reformers: John Calvin; Theodore Beza; John Knox; and Zanchius (Girolamo Zanchi).
It was Baikie's wish that the books be used 'for a Publick Liberarie to be keeped within the town'. A friend of the family, the Rev. James Wallace, who was Minister at St. Magnus Cathedral, catalogued the books and gifted them to the Presbytery of Kirkwall on 12 November 1684.
They were registered under the title 'the Publicke Library', before becoming commonly known as the Kirkwall Bibliotheck.
Rev. James Wallace contributed a significant number of other titles to the collection prior to his death in 1688. His successor, Rev. John Wilson, continued in the same vein, and he too added to the burgeoning repository.
At the period of the so-called 'Glorious Revolution' of 1688, Wilson declined to renounce the Episcopacy, and was removed from office. The Presbyterian Kirk Session transferred the collection to a wooden cupboard in the local cathedral, but by 1740 it is said to have found its way into the Assembly Room of the local Tollbooth.
It was recovered from there in 1815 and placed in the Orkney Library. The Orkney Library was administered by the local burgh and funded by subscribers under the 'Free Libraries Act.'
However, the Library committee subsequently decided that the collection was unsuitable for its purposes, and they sold it at a 'public roup' [auction] on 10 February 1891.
The collection was purchased by Rev. James Brown Craven. The books were now in a poor condition, and Craven set about repairing the books and re-cataloguing them.
On completion, he prepared a large catalogue of the works entitled: 'Descriptive catalogue of the Bibliotheck of Kirkwall (1683) with a notice of the founder' [Imprint:1897 privately at Kirkwall].
Craven subsequently decided that he should donate the collection to Aberdeen University for 'posterity'.
This act was very much in line with Craven's intense desire to preserve history for the benefit of future generations. There is little doubt that Craven rescued this priceless collection from oblivion, and for that single generous act alone, he is to be well-remembered.
The Library, Special Collections and Museums of the University of Aberdeen now claim that the collection contains around 350 volumes of invaluable works. [4]
Craven was also a very prominent Freemason on the Orkney Islands. He was initiated, passed, and raised in St. Peter's Operative Lodge, No.284, Thurso, on the Scottish mainland, on 13 March 1884, aged 33 years; his occupation was given as Minister.
Shortly after his admission to the Craft, and having been established on Orkney for a number of years by this time, he affiliated to Lodge Kirkwall Kilwinning No 38 in 1884.
Not surprisingly, he almost immediately became Lodge Chaplain. He rose through the various offices of the lodge and became Master between 1889 and 1892.
Perhaps inevitably, he became Provincial Grand Chaplain with the Provincial Grand Lodge of Caithness, Orkney and Zetland (Shetland), holding that office for some considerable time. [5]
In 1885, he was a founding member of Maeshowe Royal Arch Chapter, No. 209 on the islands, and served a period as First Principal of the Chapter. [6]
He was a member of a number of other Masonic Orders, and reference to one of them will be made later in this paper. He was not a member of the Ancient and Accepted Scottish Rite of Freemasonry. [7]
Craven was a very highly regarded and well-liked Freemason throughout the Orkney Islands, and put his great knowledge to full use, by regaling the brethren of his lodge with regular lectures.
In February, 1887, Craven became one of the earliest members of the Quatuor Coronati Correspondence Circle; [8] a form of secondary membership of the Quatuor Coronati Lodge of Research, No. 2076, London, which is widely considered to be the foremost Lodge of Masonic research in the world.
This is yet another indication of Craven's antiquarian and historical interests.
He made his last official visit in his Provincial capacity when he unveiled the war memorial tablet within the hall at Lodge Kirkwall Kilwinning in December, 1922, at which time, he paid a heartfelt tribute to fourteen members of the lodge who lost their lives in the Great War.
Craven's contribution to the Craft in the Orkney Islands and further afield are adequately summed up in an obituary proffered by an anonymous Freemason in a newspaper on the occasion of his passing to the 'Grand Lodge Above'.
As a body, Freemasons in Caithness, Orkney, and Shetland will miss from amongst their number one who was emphatically a "Mason" in the true sense of the word.

Dr Craven's long connexion with the Order, and the keen interest he at all times evinced in the progress made by the various lodges throughout the country and in the north of Scotland, gained for him a popularity with his brethren that perhaps was unequalled by any other member of the craft.

His Masonic lectures, which at times he delivered to the members of Kirkwall Kilwinning, were always welcomed, the doctor being assured of a full lodge-room on such occasions.

Dr Craven's wide knowledge of Freemasonry and his willingness to impart that knowledge and give sound advice to his brethren in such matters, earned for him the highest honours they could confer upon him, as fitting acknowledgement of his services. [9]
Despite regaling the brethren of his adopted Lodge with a number of Masonic lectures, only one appears to have been published. This was a short paper concerning the Kirkwall Scroll (see appendix two).
The Kirkwall Scroll is a rather curious and enigmatic scroll owned by the Kirkwall Lodge which depicts a number of biblical scenes and Masonic symbols, the purpose of which has defied definitive explanation by scholars over the years.
Incidentally, Craven's brother, John Craven, was also a Freemason.
He was a medical doctor, and a Licentiate of both the Royal College of Physicians of Edinburgh, and the Royal College of Surgeons of Edinburgh. [10]
However, in 1867, he was residing and working in Crieff, Perthshire, Scotland, where he was employed as a Druggist in a local store.
He was initiated into Lodge St. Michael, No. 38, Crieff, on 2 December 1867. [11]
By a happy coincidence, this lodge also happens to be the 'Mother Lodge' of the present writer.
John married Mary Moffat, the daughter of an Edinburgh solicitor, in Stirling on 18 August 1868, and the couple settled in Crieff for a while, where they had a still-born daughter on 7 June 1869, and a son, John Eldridge Craven, born on 18 August 1870.
John and Mary subsequently moved to Thurso in the north of Scotland, where they added to their family, and John pursued a very successful medical career.
He also took a very active part in public affairs there, [12] and continued his Masonic career, by affiliating to St. Peter's Operative Lodge, No. 284, Thurso, on 23 December 1893.
This was of course the 'Mother Lodge' of his brother James. [13]
John died at Thurso on 2 November 1893, and is buried in the public cemetery there. [14]
In 1870, Craven was admitted a Fellow of the Society of Antiquaries of Scotland, which indicates that his interest in history pre-dated his time as a churchman. [15]
It was an enduring interest, and also led to his involvement in the formation of the Orkney Antiquarian Society.
The society was founded in 1922, and along with Dr Hugh Marwick, Joseph Storer Clouston, and John Mooney, Craven was a founder member, and the society's first president.
The society existed for seventeen years, and produced fifteen volumes of Proceedings up until its demise in 1939.
Craven contributed to the Proceedings: his Inaugural Address to the society being published in volume one, and his Some Bible Superstitions, in volume two of 1924.
Craven was also noted for his interest in the Boy Scout movement and he considered scouting as an excellent training ground for young men 'bodily, physically, and morally'.
Although much of his work in this regard was completed in the background, he was considered a guide, philosopher, and friend, to all youths growing up in Orkney and beyond.
One of the acts he is fondly remembered for, was his dedication of the Scout headquarters in Orkney, in which he was said to be:
'happy in doing his best for the future manhood of Orkney, himself rejuvenated and the happiest among the assembled youthful company, whom he sought to guide into elevated thoughts and actions'. [16]
Rosicrucianism and Alchemy
Craven did not allow his membership of the church to prevent him from pursuing even more esoteric subjects, and one of his keenest interests lay in the subject of Rosicrucianism and its sundry subjects: Alchemy, and Hermeticism.
Craven authored several books concerning these matters, focussing on three of the most celebrated Christian mystics and Rosicrucians of the seventeenth century: Michael Maier, Robert Fludd, and Heinrich Khunrath, and their respective works (see appendices).
His book on Khunrath remained in manuscript form until published in 1997 by a private Alchemy publishing house in Scotland.
The Temple of the Rose Cross, Teophilus Schweighardt Constantiens, 1618.
IMAGE LINKED:  wikimedia Attribution 4.0 International (CC BY 4.0)
Rosicrucianism rose to prominence in Germany following the publication of the so-called Rosicrucian manifestos, chief of which was the Fama Fraternitatis published in 1614.
These manifestos were effectively a call to the learned of Europe to cast off the chains of the established church in Rome, in favour of free-thinking and a less dogmatic approach to religion.
The Fama related the adventures of C.R.C. or Christian Rosencreutz in the middle-east.
First page of the Fama Fraternitatis, 1614. By Johann Valentin Andreae – Norman MacKenzie, Secret Societies, London 1967, Public Domain
IMAGE LINKED:  wikimedia Attribution 4.0 International (CC BY 4.0)
Craven's first published work on the subject was his study of Robert Fludd, which was published in Kirkwall in 1902.
However, during the course of further research into these matters he wrote to the Librarian at Haigh Hall, Wigan, England; a man by the name of J.P. Edmond. Haigh Hall was built between 1827 and 1840 by James Lindsay, 7th Earl of Balcarres, a descendent of the Lindsays of Balcarres in Fife, and of Edzell in Angus, Scotland.
Prominent members of this family included: John Lindsay of Balcarres, Lord Menmuir, (1552-1598) and his brother Sir David Lindsay of Edzell, Lord Edzell (c1551-1610).
These noble gentlemen were known for their keen interest in Alchemy and Rosicrucianism, and both travelled widely in continental Europe, coming into contact with adepts in these fields.
Lord Menmuir's son, named David after his uncle in Edzell, was also very interested in these subjects, and like his father and uncle also travelled extensively in continental Europe.
The elder David Lindsay of Edzell is noted for building the walled garden at Edzell Castle which was completed in 1604, and which some modern scholars believe was intended for use as a Rosicrucian/Alchemical mystery centre.
His nephew David is also noted for translating a copy of the Fama Fraternitatisinto the Scots language.
The Lindsay family built a formidable and important collection of works on these subjects.
Incidentally, Sophia Lindsay, daughter of the younger David, Lord Balcarres, married the celebrated Freemason Sir Robert Moray.
Clearly aware of the import of the works housed at Haigh Hall, Wigan, Craven wrote to Edmond in 1903, requesting access to their collection for the purpose of his research, and on 26 February received a reply:
Dear Mr. Craven,

Your letter came here when I was away from home and pressure of work has hindered me from looking into the matters you mention. I send you by parcel post registered:

Maier's "Secreta naturae chymica" 1687, and "Tripus Aureus", 1618,

The latter you will see belonged to David, Lord Balcarres, I can find no description of Maier's works in 'Ebert's General Bibliographical Dictionary,' and I do not know any other work of his that would contain such account. If I am wrong about the work or author, please let me know and I shall try again. I send you the following Rosicrucian books to look at." [17]
The list of 'Rosicrucian' books sent to Craven by Edmond can be found in Appendix One.
As a form of 'quid pro quo' for his assistance, Edmond requested a copy of Craven's catalogue of the 'Bibliotheck of Kirkwall.'
Craven's studies of these Christian mystics and Rosicrucians were published in several books from the early twentieth century onwards, details of which can be found in appendix two.
It is the fate of all researchers that at some point in the future their work will be superseded by writers and academics who unearth documents or manuscripts not available to them, and which place matters in a different context.
Craven's works have withstood stood the test of time and remain highly regarded.
Craven's contemporary, and noted authority on esoteric matters, Arthur Edward Waite; when describing the work of another authority on Rosicrucianism, said: 
Finally, he may have had recourse to the excellent monograph on Doctor Robert Fludd, by Archdeacon Craven, of whose great care and sympathy it is good to offer this brief word in recognition. [18]
Hereward Tilton, a modern-day authority on Rosicrucianism, author of The Quest for the Phoenix: Spiritual Alchemy and Rosicrucianism in the Work of Count Michael Maier (1569-1622) told this writer:
As an undergraduate with limited language skills Rev. Craven provided me with my first access to the works of both Michael Maier and Heinrich Khunrath. The latter was thanks to the reprint of Adam McLean. And it all made me wonder what was going on with the Hermetic arts up there in Scotland. [19]
Another present-day author; Robert Gilbert, another highly-regarded authority on Masonic and esoteric matters, considers Craven a very important contributor to the literature concerning Maier, Fludd, and Khunrath.
On the subject of spiritual alchemy, Gilbert stresses the need for the student of the subject to be of 'high moral character, and well-versed in biblical, classical, and contemporary literature' gifts Gilbert rightly concludes, Craven held in abundance.
Gilbert points to the fact that in his work, Craven had the ability to communicate the zeitgeist of the 17th century alchemists, despite lacking the alchemical imagery, crucial to an understanding of the subject. In evaluating the works of Craven, Gilbert writes:
In his book on Fludd, and even more so in his study of Maier, Canon Craven accurately describes and meticulously analyzes their works…
In conclusion, Gilbert writes:
We can ask for no better text than J.B. Craven's book to guide us through the complexities of Maier's works and bring us to a proper understanding of them. [20]       
In his works on the Rosicrucians and spiritual alchemists, Craven displays a very thorough knowledge of his subject, a testament to his own belief in the necessity for deep research. On the subject of Alchemy, Craven compared the art with his other great love and interest Freemasonry:
And the idea of both works is in a measure the same- that the alchemists, under all their labours, their uncouth expressions, and strange unaccustomed language, hid a deep, solid, and most important secret; that those who took the trouble to study the subject would find that beneath all was hidden a great moral truth, that Alchemy, like Freemasonry, was a system of morality, veiled in allegory, and illustrated by symbols, and that in the very heart of the alchemical treatises was hidden the greatest moral truth, the greatest moral experiment, which could be conceived; that man himself was the "Vas," that the training of his moral life was the secret hidden under the stories of the furnace, the crucible, the changing experiments; that the black state of the "work" represented man as we find him, that the red and white states were representative of his approach to and arrival at the "perfect work': all the alchemical processes signified stages on the road to this perfection. [21]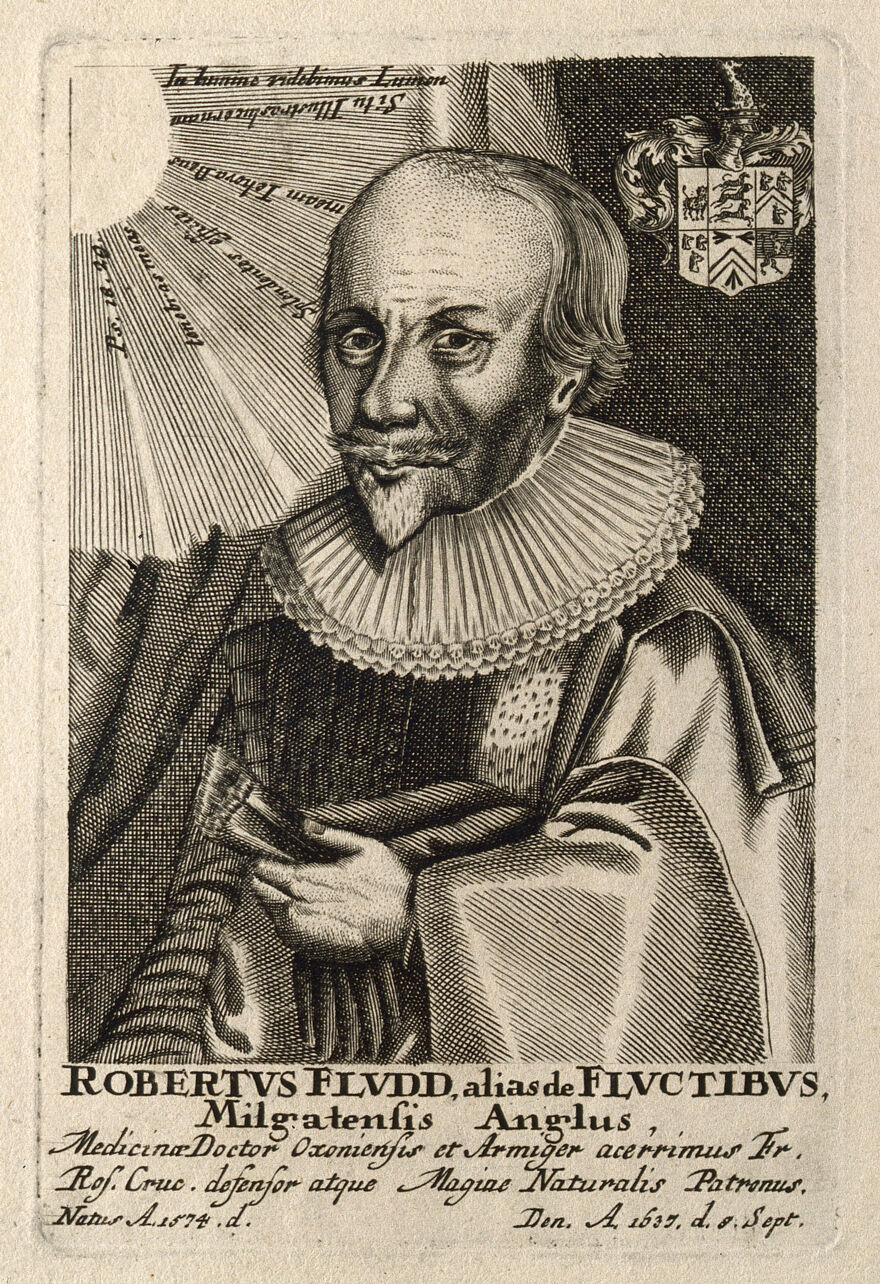 Robert Fludd. Line engraving
IMAGE LINKED:  wellcome collection Attribution 4.0 International (CC BY 4.0)
Craven also quotes the reputed Rosicrucian, or Rosicrucian apologist, Robert Fludd:
He who hates and abuses his brethren, his place shall be in Gehenna. The dwelling place of the Brethren of the Rosy Cross is in the house of God, of which Christ is made the corner stone.[22]
He continues:
The writer (Fludd) next refers to the existence of the Rosicrucian House of the Holy Spirit. What is it? Their true motto is – "Ascendamus montem rationabilem et aedificemus domum Sapientiae."

The foundation of the house is well known. It is that stone cut out without hands, which became a great mountain, filling the whole earth, and which broke the feet of the statue of false worship.

The mountain is the true Horeb and the real Zion. The "petra" is Christ, upon whom is built the spiritual house…It is indeed a house not made with hands, but has its eternity from above. [23]
Craven concludes:
It may be thus seen that a Temple of human construction cannot be meant, for from the beginning God dwelt not in temples made with hands. The house constructed by the Brethren, then, is on the spiritual rock, and is built up of the mystical stones of wisdom. [24]
Although Craven is highlighting Fludd's views on the Rosicrucians, there is little doubt he would very much have in mind the analogous words contained within Masonic ritual.
On the question of whether there is any connection between Rosicrucianism and Freemasonry Craven is almost silent. He does not deny the possibility, but refers the reader to the works of his contemporary, and brother Freemason, William Wynn Westcott.
Elsewhere, Craven writes:
The earnestness of Khunrath in the result of his studies in the Confessio and Amphitheatrum attest the strength of his belief. Like Fludd he is intense in his devotion. He seems to have attained quite a distinct position in the spiritual life.

He delighted to imagine and to write of the different ways in which virtue, in the form of a perfect wisdom, could be attained in different lives and persons. Solomon was his chief study, but many others are referred to, both scripture characters and ancient fathers.

He gives lists. Gradually men can become seers, prophets and supermen. The effect of true wisdom is a joy in the life, which disappointment in friends, poverty, obscurity cannot mar. [25]
Once again, Craven must surely have had Freemasonry in mind when writing these words.
Craven researched the subject of Rosicrucianism in Scotland. His research appears to have achieved little unfortunately.
In his hand-written notes on the subject which the present writer has examined, he entitles his research notes: 'Rose Crosse in Scotia', which he records as beginning on the 'Feast of Nicholas 1900'. After his name 'J.B. Craven', he writes the letters 'M.P.S., H.S. and St. John'. [26]
Craven is clearly indicating here that at that time he was Most Puissant Sovereign of the Red Cross of Constantine, and chairman of the appendant Orders of Knights of the Holy Sepulchre, and Knights of St. John the Evangelist. As a church minister, it is hardly surprising that Craven would have an interest in the Christian Orders of Freemasonry.
In these research notes, Craven laboriously transcribes in his own hand the entire Fama Fraternitatis, suggesting he had access to a copy prior to acquiring a copy from Haigh Hall in 1903.
Apart from repeating well-documented information concerning the history of the Masonic Rosicrucian societies, there is nothing remarkable in these notes. This is indicative of the dearth of information to be found on the subject in Scotland.
Quite surprising is the omission of anything concerning Anthony Oneal Haye, the Magus Maximus of the early Rosicrucian society in Edinburgh, the forerunner to all the Masonic Rosicrucian societies in the world today.
Given his keen interest in Rosicrucianism and Christian Freemasonry, it is equally surprising to note that Craven does not appear to have been a member of the Scottish Masonic Rosicrucian society, Societas Rosicruciana in Scotia. [27]
Another indication of Craven's interest in the ancient art of Alchemy was his involvement in an organisation known as the Alchemical Society.
This society was founded in London in 1912, for the 'study of the works and theories of the alchemists in all their aspects, philosophical, historical, and scientific, and of all matters relating thereto'.
The society encouraged papers to be prepared and delivered for discussion at their meetings. The leading light within the society was H. Stanley Redgrove, a noted Alchemy scholar, who had this to say about the society:
But let me make it quite plain at the outset that I, and not the Alchemical Society, am responsible for the theory concerning the Origin of Alchemy and the interpretation of its beliefs which I am about to lay before you.

The Alchemical Society is not a propaganda; it exists, not for the propagation of anyone's opinions, but for study and investigation alone. [28]
Some English alchemical books : being an address delivered to The Alchemical Society on Friday, October 10th, 1913 / by Professor John Ferguson. University of Glasgow.
IMAGE LINKED:  wellcome collection Attribution 4.0 International (CC BY 4.0)
Craven was elected an Honorary Vice-President of the society at their meeting of 14 March 1913.
This was in recognition of his services to the study of Alchemy, particular regarding his works on Fludd and Maier. As would be expected, he contributed to the work of the society, but due to his remote location they were read in his absence by the society chairman.
He produced a paper entitled: 'A Scottish Alchemist of the Seventeenth Century: David, Lord Balcarres', which was a relatively short piece concerning the life and work of the aforesaid David Lindsay, Earl of Balcarres.
In this article, Craven mentions his contact with the Lindsay ancestral home at Haigh Hall, Wigan, during the course of his research:
Some years ago, through the kindness of my old friend, Mr. J.P. Edmond, then librarian at Haigh Hall, I had access to several of the MSS. formerly belonging to Sir David Lindsay, first Earl of Balcarres. Lindsay was the second son of John Lindsay, Lord Menmuir, Privy Seal, and Secretary of State for Scotland.

He was created "Master of the metals and minerals within the Kingdom." Sir David succeeded his elder brother John in the family estates, and in 1633 was created Earl.

He married Sophia, daughter of his guardian the great Earl Dunfermline, Lord High Chancellor of Scotland.

At an early date, he had the royal licence "to pass forth the realme of Scotland to the realme of France, or any other parts beyond the sea, he please, there to remain for the space of seven years next after the dait hereof, that in the meantime, he may attain to learning and haif the insight of their languages and behavior" [29]
The Journal of the Alchemical Society in which Rev. Craven's paper 'A Scottish Alchemist of the Seventeenth Century' was published.
Craven also contributed another paper to the Alchemical Society entitled 'Alchemy and the Devil', the chief theme of which was the attitude of the church to the subject of Alchemy. In this paper, Craven writes:
Alchemy and magic have always been regarded with evil looks by the Church. She knew well enough that the Devil is simply macrocosmos in the lower hemisphere.

The received manner of depicting the evil one was after the manner of Pan, though it is extremely curious that the numerical values of the names applied to him are identical with those of the good deity. [30]
In the paper, Craven described the two forms of Alchemy: one, a 'black art', practiced by those who allegedly summoned demons to assist in the work, as opposed to the 'true alchemist', who always insisted on 'the need of the Divine afflatus'.
Craven also differentiated between those who used practical alchemy for the futile attempt at creating gold from base metals with which to enrich themselves; and those who used it for more noble and spiritual purposes:
The real alchemist always endeavored to shew that supposing gold could be created ad libitum, it would be useless.

Still the evil spirit did present to the mental eye of the bewildered student "all the kingdoms of the earth, and the glory of them."

This was, is, the gain which is promised on condition of worship and trust. It has never been attained.

The invocation of evil can only retort on itself, like the golden coins bestowed on the sworn votaries of Satan, which by morning light, prove to be worthless stones or withered leaves.

The higher Alchemy throws aside the theurgic art of magic, all invocations of devils, demons, and evil spirits. It is "almost identical with religion, as distinct from Theology.

The function of Religion and the great work of the Alchymist is spiritualization". [31]
Amongst a number of conclusions on the subject Craven observed:
That suspicions have always existed both in church and state that alchemists and alchemical pursuits and results, were assisted by the macrocosm of the lower sphere.

That the nature of the older alchemical studies, the value of which hoped-for results might have, and the dangers of persecution and even imprisonment, and murder, led to secret formulae bizarre and strange, in regard to the actual metallic working, and to a hidden esoteric teaching, in the spiritual projection, much of which is still uninterpreted, though further study and comparisons may lead to excellent results; results perhaps, tending towards the true and real development of the "Superman." [32]
Fellow members of the Alchemical Society were noted occultists/esotericists Arthur Edward Waite and Isabelle de Steiger.
There is no doubt that as a practicing Freemason, Craven drew comparisons between Alchemy and Freemasonry.
Practical Alchemy involved attempting to transmute base metal into gold; Spiritual Alchemy involved attempting to raise base man to a higher spiritual level.
He saw Freemasonry as very similar to the latter, in that through the initiatic experience, it is hoped to raise the candidate to a higher level of morality through the teachings of the three Craft degrees of Freemasonry.
In Masonic symbolism, the initiate is viewed as a crude and imperfect rough ashlar, who is encouraged to work on himself with the aid of Masonic instruction, to achieve the ideal of becoming a perfect ashlar, or at least a better human being, which will benefit society as a whole.
Perhaps not the 'Superman' envisioned by Craven, but someone operating on a higher spiritual plane of human existence. This might reasonably be construed as an alchemical process.
It is instructive to note that Craven researched the life and times of the Ruthven family of Perth, Scotland.
This noble family, styled the Earls of Gowrie, played an influential part in the history of Scotland, and members of the family were noted Alchemists in 16th and 17th century Scotland.
This is a theme the present writer intends to pursue at a later date.
Archdeacon, the Reverend James Brown Craven passed away on 17 April 1924, aged 74 years. Amongst many heartfelt tributes, Rev. J. M. Sutherland of the United Free Church, Kirkwall, stated:
He brought lustre upon himself by his studies and writings. It is not for me in any way to try to appraise his work and worth. But we cannot but recall today how he joined with us not so long ago to do honour to the memory of our fallen, several of whom he knew as personal friends. We remember with gratitude and humble faith, his devout life, his cheerful disposition, and we would say: –

For all Thy saints who from their Labours rest,
Who Thee by faith before the world Confessed:
Thy name O Jesus, be forever blest-
Hallelujah!
Craven never married; but the research and writing he left behind, will provide a lasting legacy, not only for the people of the Orkney Islands, but for all truth seekers throughout the world, who believe in the perfectibility of man. 
Footnotes
Acknowledgements
The author wishes to express his grateful thanks to a number of persons who assisted in the production of this paper:
Mr. A.C. Stuart Donald, FSA Scot, Keeper of the Aberdeen Diocesan Library and Honorary Archivist, St. Clements House, Mastrick, Aberdeen, Scotland, for providing material used in the research for the paper.
Mr. Hereward Tilton for his assistance in identifying the works borrowed by Rev. J.B. Craven from Lindsay of Haigh Hall, Wigan.
Mr. James L. Noble, of the Grand Lodge of Scotland, 96, George Street, Edinburgh, for his assistance in tracing details of Masonic memberships.
Referances
NOTES
[1] The 'Disruption' was a schism within the established Church of Scotland in 1843 which led to the formation of the Free Church of Scotland.
[2] Alexander Emslie Smith ran his law practice from an office at 130, Union Street, Aberdeen. Craven lived nearby at 50, Bon-Accord Street.
[3] Biographical information obtained from the Aberdeen Diocesan Library and Archives.
[4] Ibid; University of Aberdeen, Sir Duncan Rice Library and Museum, Special Collections, Rev. James Brown, Clergyman, papers, MSS ref. nos. 2150-2156.
[5] Unattributed sources suggest that Craven may have attained the high rank of Depute Provincial Grand Master of Caithness, Orkney, and Zetland. The present writer has been unable to find definitive evidence of this. Caithness became a separate Province in 1927.
[6] The Chapter is named for Maeshowe; a Neolithic chambered cairn and passage grave situated on the island of Orkney which has been dated to around 2700 BC.
[7] Register of the Supreme Council for Scotland of the Ancient and Accepted Scottish Rite.
[8] W.J. Songhurst, ed. Ars Quatuor Coronaturum, Transactions of Quatuor Coronati Lodge of Research, No. 2076, London, Vol. 37, obituary, Ven. Archdeacon James Brown Craven, (W.J. Parrett, Ltd, Printers, Margate, 1924), 312.
[9] Aberdeen Diocesan Library and Archives.
[10]Register of Licentiates of the Royal College of Physicians of Edinburgh, May 2, 1873.
[11] Register of the Grand Lodge of Scotland, Freemasons Hall, 96, George Street, Edinburgh.
[12]J.B. Craven, Genealogical Collections Relating to the Family of Cravie or Craven, with Notes and Documents Illustrative of their Family Connections, (Kirkwall: Privately printed, 1910), 36.
[13] Register, Grand Lodge of Scotland.
[14]Craven, Family of Cravie or Craven, 37.
[15] Proceedings of the Society of Antiquaries of Scotland, Vol. VIII, Part II, Ninetieth Session, 1869/70, List of the Fellows as of June 30, 1870, 21.
[16] Ibid.
[17] University of Aberdeen, Special Collections.
[18] A.E. Waite, The Brotherhood of the Rosy Cross, (University Books, 1973), 277.
[19] Personal correspondence to author.
[20] R.A. Gilbert, foreword to Count Michael Maier, Life and Writings, by J.B. Craven (Maine: Ibis Press: an imprint of Nicolas-Hays, Inc. Berwick, 2003), xi-xx.
[21] J.B. Craven, Count Michael Maier: Doctor of Philosophy and of Medicine, Alchemist, Rosicrucian, Mystic, (1568-1622), Life and Writings, (London: Dawsons of Pall Mall, 1968), 15.
[22] J.B. Craven, The Life and Mystical Writings of Dr. Robert Fludd, (Kessinger Publishing, undated reprint), 140.
[23] Ibid. 140-141.
[24] Ibid. 141.
[25] J.B. Craven, Doctor Heinrich Khunrath, A Study in Mystical Alchemy, (Glasgow: Adam McLean Hermetic Studies, No. 1, 1997), 18.
[26] University of Aberdeen, Special Collections.
[27] A check was made on the author's behalf of records held by the Societas Rosicruciana in Scotia and there is no record of Craven being a member of that society.
[28] H. Stanley Redgrove, "The Origin of Alchemy," in The Journal of the Alchemical Society, Vol. 1, Part 1, (January, 1913), 3.
[29] J.B. Craven, "A Scottish Alchemist of the Seventeenth Century, David, Lord Balcarres," in The Journal of the Alchemical Society, Vol.1 Part 5, (May, 1913), 68-73.
[30] J.B. Craven, "Alchemy and the Devil," in The Journal of the Alchemical Society, Vol. III, Part 17, (February, 1915), 49-55.
[31] Ibid. The quote in parenthesis is from Dr. William Wynn Westcott.
[32] Ibid. 
Appendix 1
Titles borrowed by Bro. The Rev. James Brown Craven, Orkney, from Lindsay of Haigh Hall, Wigan in 1903, during his researches into Rosicrucianism:
1. Crux absq[ue] Cruce: Das ist: Wolvermeynte Defension, deren/ inter Mundi calumnias blühenden Teutschen Gesellschafft ad S. Sanctum, genannt vom Rosencreutz / Vitus <del Capo de la Bona Speranza>. – [S.l.], 1617
There is also a 1618 edition of this title.
2. Einfältige Antwort schreiben/ An die Hocherleuchte Frat. deß löblichen Ordens vom Rosencreutz. Auff ihre an die Gelehrten Europae, außgesandt Famam & Confess. &c.: [Datum Leipzig den 16. Febr. Anno Christi 1617.] [S.l.], [1617]
3. Grick, Friedrich: Clypeum Veritatis; Das ist Kurtze/ jedoch Gründliche Antwort respective, und verthädigung/ auff alle und jede schrifften und Missiven, welche an und wider die … Fraternitet deß Rosencreutzes … außgesprengt worden : Darauß neben anderem klärlich abzunemen/ was in einer Sum[m] … begierige Discipul … zu gewarten haben ; [Datum zu Thunis den 21. Februarii/ Anno 1618.] Ort/Jahr: [S.l.], 1618
4. Sylloge, An Hostia Sit Verus, Cibarius, Et Synōnymōs dictus Panis / Becmann, Christian. – Hanoviae : Aubrii, Schleichius, 1618
5. Rosa Florescens, contra F. G. Menapii calumnias. Das ist: Kurtzer Bericht und Widerantwort/ auff die sub dato 3 Iunii 1617 ex agro Norico in Latein/ und dann folgendes 15. Iulii obgedachtes Jahrs Teutsch publicirte unbedachte calumnias, F. G. Menapii, Wider die Rosencreutzische Societet : [Diß schreib ich in Franckfurt ipsis nunpinis autumnalibus, 1617.] / Mögling, Daniel. – [S.l.], 1618
There is also a 1617 edition of this title.
 6. The Fame and Confession of the Fraternity of R: C: Commonly, of the Rosie Cross. With a præface annexed thereto, and a short declaration of their physicall work. By Eugenius Philalethes. London: Printed by J.M. for Giles Calvert, at the black spread Eagle at the West end of Pauls, 1652.
7. Michaelis Majeri, Secreta naturae chymica, nova plane subtilique methodo indagata; first published under title: Atalanta fugiens (Oppenheimii : Ex typographia Hieronymi Galleri : Sumptibus Joh. Theodori de Bry, 1618). Plates by M. Merian. Cf. de Jong. 1687.
 8. Michaelis Majeri, Tripus Aureus, hoc est, Tres Tractatus Chymici Selectissimi, nempe; I. Basilii Valentini, Benedictini Ordinis monachi, Germani, Practica vna cum 12. clauibus & appendice, ex Germanico; II. Thomas Nortoni, Angli Philosophi Crede Mihi seu Ordinale, ante annos 140. ab authore scriptum, nunc ex Anglicano manuscripto in Latinum translatum, phrasi cuiusque authoris vt & sententia retenta; III. Cremeri cuiusdam Abbatis Westmonasteriensis Angli Testamentum, hactenus nondum publicatum, nunc in diuersarum nationum gratiam editi, & figuris cupro affabre incisis ornati opera & studio. Printed by Paul Jacob. Publisher Lucas Jennis, Frankfurt. 1618.
Appendix 2
Works of the Rev. James Brown Craven. The list is not necessarily exhaustive, but covers his chief works. Many of the books were originally published in Kirkwall, Orkney, and some have run to several subsequent editions:
BOOKS
History of the Episcopal Church in Orkney, 1688-1882, with some notes on the Church in Caithness and Shetland during that period: and an introductory sketch of the earlier ecclesiastical history of Orkney. (1883)
Journal of the Episcopal Visitations of the Right Rev. Robert Forbes of the Dioceses of Ross and Caithness, and of the Dioceses of Ross & Argyll, 1762 and 1770: with a history of the Episcopal Church in the Diocese of Ross, chiefly during the 18th Century; and a memoir of Bishop R. Forbes. (1886)
History of the Episcopal Church in the Diocese of Moray. (1889)
History of the Church in Orkney: The Restoration to the Revolution, 1662-1688: Bishops Sydserff, Honyman, and Mackenzie. (1893)
Scots Worthies, 1560-1699, Thirty-Five Sketches. (1894)
History of the Church in Orkney, 1558-1662: Bishops Bothwell, Law, and Grahame. (1897)
History of the Church in Orkney: from the introduction of Christianity to 1558. (1901)
Doctor Robert Fludd, (Robertus de Fluctibus), The English Rosicrucian: Life and Writings. (1902)
Records of the Dioceses of Argyll & the Isles, 1560-1860. (1907)
A History of the Episcopal Church in the Diocese of Caithness. (1908)
Genealogical collections relating to the family of Cravie or Craven in Scotland: with notes and documents illustrative of their family connections. (1910)
Count Michael Maier: Doctor of Philosophy and of Medicine, Alchemist, Rosicrucian, Mystic, (1568-1622), Life and Writings. (1910)
Church Life in South Ronaldshay & Burray in the 17th Century. (1911)
History of the Episcopal Church in Orkney, 1688-1912.  (1912).
Sir John Arnot of Barnswick and the family of Arnot in South Ronaldshay. (1913)
The Esoteric Studies of Robert Leighton … with a short introduction on esoteric studies in Scotland. (1918)
Doctor Heinrich Khunrath: A Study in Mystical Alchemy. (1997)
PAPERS
 Orkney Antiquarian Society Inaugural Address, Proceedings of the Orkney Antiquarian Society Vol. 1, (Session 1922 – 1923).
 Some Bible Superstitions, Proceedings of the Orkney Antiquarian Society Volume 2, (Session 1923 – 1924).
 A Scottish Alchemist of the Seventeenth century – David Lord Balcarres. (The Alchemical Society Journal, Vol.1, Part 5, May 1913).
 Alchemy and the Devil. (The Alchemical Society Journal, Vol. 3, Part 17, February, 1915).
Kirkwall Kilwinning Lodge No. 38/2 and its Remarkable Scroll. (Ars Quatuor Coronaturum- Transactions of Quatuor Coronati Lodge of Research, No. 2076, London, Volume 10, 1897).
Article by: Kenneth C. Jack
Kenneth C. Jack  FPS is an enthusiastic Masonic researcher/writer from Highland Perthshire in Scotland.
He is Past Master of a Craft Lodge, Past First Principal of a Royal Arch Chapter, Past Most-Wise Sovereign of a Sovereign Chapter of Princes Rose Croix.
He has been extensively published in various Masonic periodicals throughout the world including: The Ashlar, The Square, The Scottish Rite Journal, Masonic Magazine, Philalethes Journal, and the annual transactions of various Masonic bodies.
Kenneth is a Fellow of the Philalethes Society, a highly prestigious Masonic research body based in the USA.
Count Michael Maier
By: J.B. Craven
This scarce antiquarian book is a facsimile reprint of the original. Due to its age, it may contain imperfections such as marks, notations, marginalia and flawed pages.
Because we believe this work is culturally important, we have made it available as part of our commitment for protecting, preserving, and promoting the world's literature in affordable, high quality, modern editions that are true to the original work.
Recent Articles: Kenneth C. Jack
Rosicrucianism and the Gowrie House Mystery
Unearth the mystifying intersections of Rosicrucianism and the infamous Gowrie House Mystery. Dive into speculative claims of sacred knowledge, royal theft, and a Masonic conspiracy, harking back to a fateful day in 1600. As we delve into this enthralling enigma, we challenge everything you thought you knew about this historical thriller. A paper by Kenneth Jack

Thomas Telford's Masonic Bridge of Dunkeld
Of course, there is no such thing as a 'Masonic Bridge'; but if any bridge is deserving of such an epithet, then the Bridge of Dunkeld is surely it. Designed by Scotsman Thomas Telford, one of the most famous Freemasons in history.

The masonic and orange orders: fraternal twins or public misperception? "Who's the Mason in the black?"

Kenneth Jack's research reveals James Murray, 2nd Duke of Atholl – the 'lost Grand Master'

An Oration delivered to the Annual Burns and Hogg Festival, at Lodge Canongate Kilwinning, No. 2, Edinburgh, on 24 January 2018. By Bro. Kenneth C. Jack, FSAScot FPS, Past Master, Lodge St. Andrew, No. 814, Pitlochry.

William Winwood Reade was a Scottish philosopher, historian, anthropologist, and explorer born in Crieff, Perthshire, Scotland. The following article by Kenneth Jack, provides some hints that William may have been a Freemason, but there is presently no definitive evidence he was.

What's in a name? A brief history of the first Scottish Lodge in Australia - By Brother Kenneth C. Jack, Past Master, Lodge St. Andrew, No. 814, Pitlochry

Sir Francis Bacon and Salomon's House
Does Sir Francis Bacon's book "The New Atlantis" indicate that he was a Rosicrucian, and most likely a Freemason too? Article by Kenneth Jack

George Blackie – The History of the Knights Templar P.4
The final part in the serialisation of George Blackie's 'History of the Knights Templar and the Sublime Teachings of the Order' transcribed by Kenneth Jack.

George Blackie – The History of the Knights Templar P.3
Third part in the serialisation of George Blackie's 'History of the Knights Templar and the Sublime Teachings of the Order' transcribed by Kenneth Jack.

George Blackie – The History of the Knights Templar P.2
Second part in the serialisation of George Blackie's 'History of the Knights Templar and the Sublime Teachings of the Order' transcribed by Kenneth Jack.

George Blackie – The History of the Knights Templar P.1
First part in the serialisation of George Blackie's History of the Knights Templar and the Sublime Teachings of the Order – by Kenneth Jack

Little known as a Freemason, Bro Dr Robert 'The Bulldog' Irvine remains a Scottish rugby legend, and his feat of appearing in 10 consecutive international matches against England has only been surpassed once in 140 years by Sandy Carmichael.

Rev. J.B. Craven: Theologian, Historian, Freemason, And Rosicrucian Scholar
Archdeacon James Brown Craven is one of those unsung heroes of Scottish Freemasonry about whom very little has been previously written – here Kenneth Jack explores the life and works of this remarkable esoteric Christian.

Discover the powerful family of William Schaw, known as the 'Father of Freemasonry'

This month, Kenneth Jack invites us to look at the life of Sir William Peck; - astronomer, Freemason and inventor of the world's first electric car. A truly fascinating life story.

A Tribute to Scotland's Bard – The William Robertson Smith Collection
With Burns' Night approaching, we pay tribute to Scotland's most famous Bard – The William Robertson Smith Collection

The Joy of Masonic Book Collecting
Book purchasing and collecting is a great joy in its own right, but when a little extra something reveals itself on purchase; particularly with regards to older, rarer titles..

Masons, Magus', and Monks of St Giles - who were the Birrell family of Scottish Freemasonry?

The 6th Duke of Atholl - Chieftain, Grand Master, and a Memorial to Remember
In 1865, why did over 500 Scottish Freemasons climb a hill in Perthshire carrying working tools, corn, oil and wine? Author Kenneth Jack retraces their steps, and reveals all.

Charles Mackay: Freemason, Journalist, Writer
Kenneth Jack looks at life of Bro Charles Mackay: Freemason, Journalist, Writer, Poet; and Author of 'Tubal Cain'.

A Mother Lodge and a Connection Uncovered, a claim that Sir Robert Moray was the first speculative Freemason to be initiated on English soil.

What is it that connects a very old, well-known Crieff family, with a former President of the United States of America?

The life of Bro. Cattanach, a theosophist occultist and Scottish Freemason

The Mysterious Walled Garden of Edzell Castle
Explore the mysterious walled garden steeped in Freemasonry, Rosicrucianism, and Hermeticism.

Dr. George Dickson: Scottish Freemason and Occultist
Bro. Kenneth explores the life of Dr George Dickson a Scottish Freemason and Occultist

The Colour Purple - Its Derivation and Masonic Significance
What is the colour purple with regards to Freemasonry? The colour is certainly significant within the Royal Arch series of degrees being emblematical of Union.

Bridging the Mainstream and the Fringe
Edward MacBean bridging mainstream Freemasonry with the fringe esoteric branches of Freemasonry

Freemasonry in the Works of John Steinbeck
We examine Freemasonry in the Works of John Steinbeck

Renegade Scottish Freemason - John Crombie
Who was John Crombie and why was he a 'renegade'?

Scottish Witchcraft And The Third Degree
How is Witchcraft connected to the Scottish Third Degree

to be a better citizen of the world
share the square with two brothers
click image to open email app on mobile device