Standing in a state of darkness at the Worshipful Master's Pedestal the candidate is informed that 'vows of fidelity are required' 
The Worshipful Master then goes onto say, 'but let me assure you that that in those vows there is nothing incompatible with your civil, moral, or religious duties'.
So, what is a 'vow of fidelity'? Vows or promises take several forms, but first shall we just look at what the word 'fidelity' means.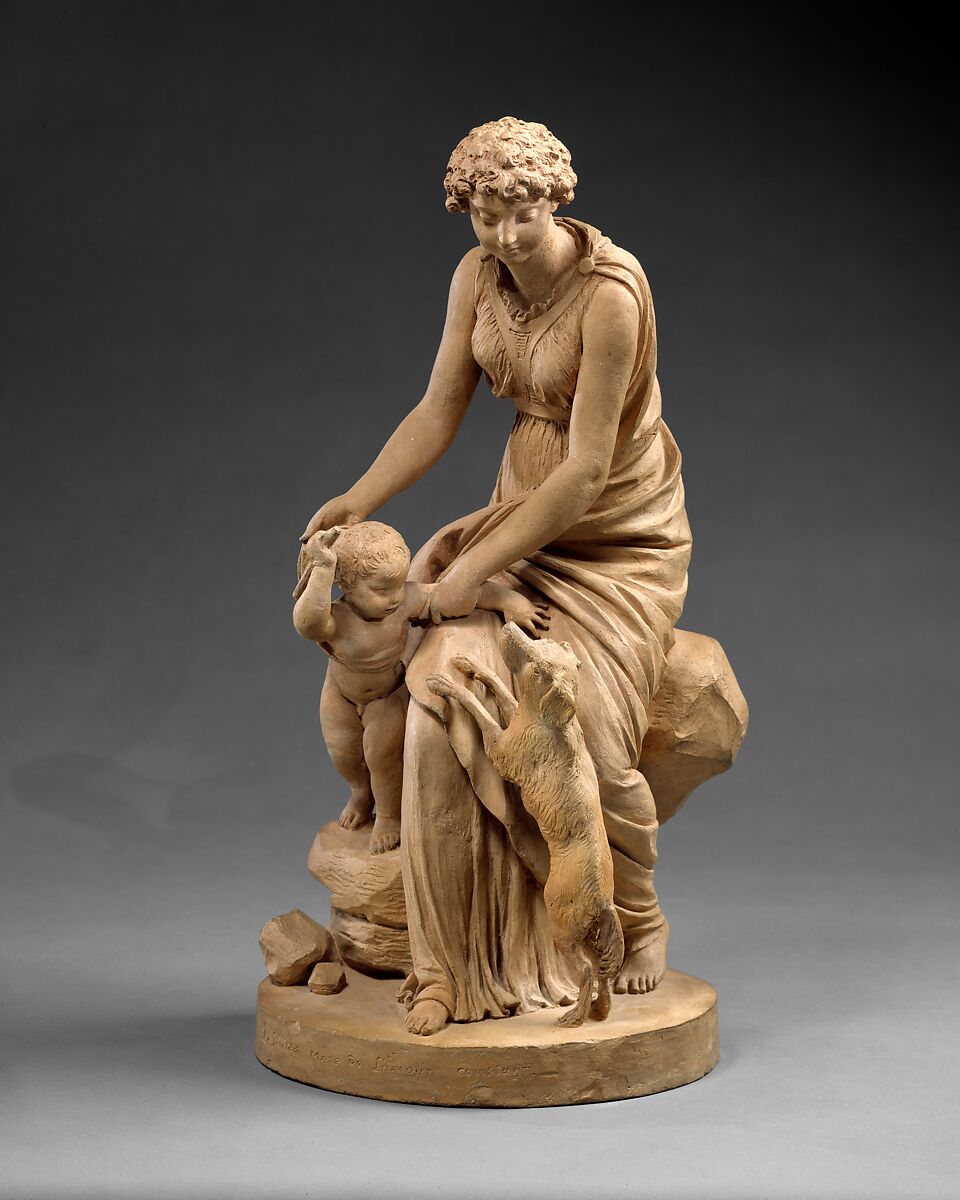 Fidelity, the Mother of Constant Love, sculpture by Augustin Pajou, Paris, 1799
IMAGE LINKED:  MetMuseum OAI Attribution 4.0 International (CC BY 4.0)
A definition by the Cambridge Dictionary, Fidelity – 'The state of remaining loyal to someone and keeping promises you made to that person', 'Loyalty to a person or organisation'.
From these definitions of 'fidelity', we get an indication of the type of people that Freemasonry attracts and what is expected of them from the institution itself. Loyalty to friends and brothers and a person who keeps their promises. Someone who prizes honour above all else.
During my life I have made several promises to organisations, to the establishment and to God.
As a Scout I promised that:
'I will do my best to do my duty to God and to the Queen, to help other people and to obey the Scout Law'.
Video Presentation of this article
Oath – Boy Scout Memorial, Washington DC, USA.
IMAGE LINKED:  wikimedia Attribution 4.0 International (CC BY 4.0)
As a police officer I took an oath to:
'truly serve the Queen in the office of constable, with fairness, integrity, diligence and impartiality, upholding fundamental human rights and equal respect to all people;

and that I will, to the best of my power, cause the peace to be kept and preserved and prevent all offences against people and property;

and that while I continue to hold the said office I will to the best of my skill and knowledge discharge all the duties thereof faithfully according to the law'.
Giving evidence at court I swore:
'that the evidence I shall give shall be the truth, the whole truth and nothing but the truth, so help me God'
At my marriage I made a promise to my bride and to God that:
'I take thee …… to be my lawfully wedded wife, to have and to hold from this day forward, for better for worse, for richer for poorer, in sickness and in health, to love and to cherish, till death us do part, according to God's holy ordinance; and thereto I plight thee my troth.'
In Freemasonry I made vows to keep the secrets of each of the degrees in Craft Masonry and that of the other Orders that I joined.
All lasting promises of significance.
So, what is a 'vow' and what is its relevance as opposed to a promise, a covenant, or an oath.
James Hough, a Catholic who teaches catechism writing for Quora, explains the difference between a vow and a covenant:
A vow 'is a one-sided arrangement from a man to God.'' A covenant is a 'two-sided arrangement usually between God and man'.
 A person making a vow commits a serious sin for which they are punishable if that vow is broken.
The obligation in the First Degree ceremony goes quite vividly into the punishment for breaking such a vow, quoting 17th Century law.
But more importantly God's punishment by showing a lack of integrity, that of being branded a person of little or no moral worth.
'Moses comes down from Mt. Sinai'. La Grande Bible de Tours, Gustave Doré, 1866.
IMAGE LINKED:  wikimedia Attribution 4.0 International (CC BY 4.0)
A covenant is usually written, and in the case of Moses and the Jewish peoples' arrangement with God, it is written in stone – The Ten Commandments.
When asked the question – 'what is the difference between a promise, an oath and a vow?' Len Freedman, also writing in Quora, said:
'A promise is something you promise someone else.'
For example, 'I promise that I will do my best, to do my duty to God and the Queen.'  The first line of the Scout's Promise that a Scout makes to their Troop.
To an honourable Scout the breaking of that promise is a serious matter but there is no punishment attached to it except that which the Scout imposes on themselves – a feeling of guilt.
'An oath is a promise you make invoking God.'
For example, 'I promise to tell the truth, so help me God', in a court of law before giving evidence.
Calling on God, to a person of faith the highest authority, to witness the promise on the assumption that if that action was false, a punishment far worse than anything physical that man can bring about will happen.
That of being branded 'a wilfully perjured individual'.
'A vow is a promise you make to God.'
'I promise to love, honour and cherish' – a marriage vow made in church before God and the congregation. You are not only promising your spouse, but you are also promising God.
Again, to a person of faith making a promise to the highest authority on the assumption that if that promise is broken a punishment far worse than anything man can bring about will happen. A stain on their honour.
The Holy Quran verse 2:225 states:
'When you clearly state something and swear by Allah, and in your heart you mean this oath to be solemn, then breaking it will be sinful unless you make atonement for it'.
The Holy Bible: Numbers 30:2
'When a man voweth a vow unto the Lord, or sweareth an oath to bind his soul with a bond, he shall not break his word; he shall do according to all that proceedeth out of his mouth.'
A vow is a serious personal promise, whilst an oath relates to a sacred and solemn obligation.
The difference between a vow and an oath according to Jewish religious law is that a vow changes the status of some external thing, a verbalisation of a promise to do something which to that person is serious, whilst an oath initiates internal change, a change in mindset, of attitude, according to a religious doctrine.
If a vow is taken that is sinful it would be breaking God's law. So, no one should make a vow or swear an oath frivolously or indiscriminately.  
Obligation of secrecy
IMAGE LINKED:  General Ahiman Rezon, Daniel Sickels, 1868  Attribution 4.0 International (CC BY 4.0)
After taking a Masonic obligation the candidate is asked to seal that obligation on the VSL as a seal of fidelity and establishing it as more than a serious promise.
In other words, turning what is a promise to those assembled in a Freemason's lodge into a binding vow before God with a punishment which goes far beyond that of which man can give, a spurn on one's honour.
At the end of the day, it doesn't matter what label you put on an action that you promise you would or would not do, it is what is in your heart and what is in your mind when that obligation is made.
Your 'belief' as an honourable, God-fearing person. Your faith, for Jesus said;
'I say to you, 'Do not take an oath at all, either by heaven, for it is the throne of God, or by the earth, for it is his footstool, or by Jerusalem, for it is the city of the great King'
– Matthew 5: 34-35
For God is 'omniscient, omnipotent, and omnipresent' and will know as you know if any such promise is broken.
'Let "yes" mean "yes" and let "no" mean "no".'
– Matthew 5: 37
Vows and oaths should be reserved for occasions of great importance and lasting significance.
In our lodges we are asked to put our right hand on the VSL, as we do in a court of law before giving evidence, and to kneel when we take our obligation, our promise before God and in the presence of the membership to keep the secrets of Freemasonry.
The hand on the VSL is an indication of your faith and the seriousness with which the obligation that you are about to take means as a person of 'faith'. Therefore, what is the significance of kneeling?
Kneeling is a behaviour used by primates to convey deference – submission or passivity – in order to look smaller and to establish a hierarchy within a social structure.
Kneeling at the feet of another was common practice in ancient times as a mark of submission, honour and respect.
There is a connection between kneeling and worship as in some cultures kings were often regarded as deities.
Admiral Drake knighted by Queen Elizabeth' (Sir Francis Drake)
IMAGE LINKED:  wikimedia  Attribution 4.0 International (CC BY 4.0)
In the royal courts of Europe, it is a sign of submission, humility and respect.
The most common being when knighted the person being dubbed with that honour is showing respect and humility to the monarch, and therefore to the country, the monarch being the country's most senior representative, who in the UK is also the 'defender of the faith'.
In Judaism, Islam and Christianity it is the sign of humble submission to God, a higher authority, when in prayer.
 'Oh come, let us worship and bow down; let us kneel before the Lord, our Maker.'
– Psalm 95.6
The Hebrew word for worship literally means to 'bow down', something that would be done from the kneeling position.
In Freemasonry, candidates kneel before the WM and the VSL because they are on Holy ground which has been so blessed.
They are, therefore, kneeling before the most senior representative of the lodge and before God as a sign of submission, humility and respect. 
An oath, a vow, a covenant, a promise whenever made and for whatever purpose, means nothing if the person making it has no integrity, no honour, no respect and if made in the name of God, no faith.
For such words and actions must be truthful and come from the heart of the person making it.
Article by: Stephen J. Goulding
Stephen was initiated into Freemasonry in 1978 in Tylney Lodge No. 5856 (UGLE). He was Master in 1989 & 2004.
He was Master of the Lodge of Union 38 (UGLE) in 2018. He is also a PZ in the Holy Royal Arch and PM in the Mark Degree.
Stephen served 30 years in the Metropolitan Police Service (London, England) before going into education in 2000, where he became a college lecturer and a mentor for both the college and the University of Greenwich (London, England). Now retired, he teaches Tai Chi and Qigong in the community.
Facebook: Steve Goulding-Tai Chi West Sussex–Chi at Chi
Recent Articles: in this tutorial series
Morality veiled in allegory and illustrated by symbols
A phrase that immediately comes to mind when describing Freemasonry – Morality veiled in allegory and illustrated by symbols. Let us have a look at what this phrase actually means.
more....
Vows of Fidelity
The taking of a 'Vow of Fidelity'. Oaths, Vows and Covenants
more....
Perambulations
When we look at the ritual book the deacons are told to 'perambulate' with the candidate. So what does this really mean?
more....
The North East Corner: A Lesson on Charity
The ritual of the North East corner is a powerful piece of teaching. Let us examine that piece of ritual more closely; the lesson on charity.
more....
Jacob's Ladder
On the First Degree tracing board the most dominant feature is Jacob's Ladder stretching from Earth to Heaven. Being straight, it is the shortest and quickest way to reach heaven, and being straight you can see the end goal.
more....
The Winding Staircase
Steps to the Making of a Master. The symbolism of each step of the winding staircase is to continue your personal development throughout your life, right up to your last breath in this world.
more....
The Charges in Each Degree
The 'Old Charges' have come down to us, containing the rules and regulations by which Lodges should be run and the moral and social standards to which each Lodge member should adhere.
more....
Commentary on the Charge after Initiation
A more detailed explanation in order for us to understand the Charge after Initiation
more....
Commentary on the Second Degree Charge
In the second degree we learn about being an educated man. Skilful, not only in the Craft itself but also how to communicate and manage others. This Commentary looks at the second degree charge in detail.
more....
Commentary on the Third Degree Charge
The Third Degree Charge invites the candidate to reflect on his life as both a 'moral' and 'educated' man, and to contemplate on what may be missing in his life. The 'genuine secrets of a Master Mason'.
more....
Officers of the Royal Arch - The Janitor
Who is the Janitor, What is your destiny? going beyond yourself spiritually
more....
Officers of the Royal Arch - The Sojourners
Who are the Sojourners , Having self-respect you never compare yourself to others
more...
Officers of the Royal Arch - Scribe Nehemiah
In order to achieve enlightenment it is necessary to have an 'inner peace', a calmness of the mind in the midst of turmoil and stress.
more....
Officers of the Royal Arch - Scribe Ezra
When we describe faith what do we mean? 
more....
Officers of the Royal Arch The Principals – Spirituality
Who were the Principals and how do they link Spirituality
more....
Officers of the Lodge - Tyler
Who is the Tyler being placed outside the door of the lodge, symbolically to protect our moral selves.
more....
Officers of the Lodge - Inner Guard
Who is the Inner Guard – Instinct 
more....
Officers of the Lodge - Deacons
Who are the Deacons ? - The most important aspect of communication is not only to listen but to hear. Hear both what is and what isn't being said.
more....
Officers of the Lodge - Junior Warden
Officers of the Lodge - Who is the Junior Warden? – Spiritual Consciousness
more....
Officers of the Lodge - Senior Warden
Who is the Senior Warden – Your very essence
more....
Officers of the Lodge - Worshipful Master
Who is the Worshipful Master being placed in the east? your spirit, the quality of your purpose in life.
more....
to be a better citizen of the world
share the square with two brothers
click image to open email app on mobile device