A quick Google search for the definition of 'a gentleman' returns:
a chivalrous, courteous, or honourable man. 
More simply, the term could be defined as a man who has high standards in every aspect of his life.
Indeed, a gentleman practices every public and domestic virtue. This should be sounding familiar, around about now, as this is also what is expected of every Freemason.
To drive the point home, we need to look no further than the charge after initiation.
From the very beginning, this important part of the first-degree ceremony defines Freemasonry as an 'ancient and honourable institution'.
It goes on to derive the order's honourable status from the fact that it has a natural tendency to make those so who are obedient to its precepts.
In this one opening statement, we have an admission that Freemasonry contains the rules of becoming a perfect gentleman.
What, then, are these rules of gentlemanly behaviour?
The first piece of advice given is to act exemplary in the discharge of our civil duties.
We should avoid any actions that seek to undermine the ideals of peace and order in society.
Further, when we are abroad, it is recommended that we should follow the laws of that country at all times.
We are also told that we should always remember our sacred and indissoluble attachment towards that country whence we derived our birth and infant nurture.
In other words, we should be loyal to the country in which we are born, and to uphold its laws and traditions.
Essentially, we should not be scared to be exemplars and protectors of the ways of our country of origin.
Especially, it seems, in the face of the current sentiments that are proliferating around the globe regarding so-called isolationism.
Continuing on, the charge then recommends that we practice every domestic and public virtue by being prudent, temperate (exercising moderation), having fortitude, and being just.
These four qualities are essential to being a gentleman. The one who has mastered these will, by character, be considerate, considered, as well as confident in their own convictions.
This person will always be aware of their social surroundings and be aware that their own behaviour affects those people around them.
Therefore, he will purposefully select appropriate language and actions.
Of course, added to these virtues of the individual are benevolence and charity.
The gentleman is always ready to come the aid of those in distress.
​
An image personifying the four virtues (Ballet Comique de la Reine, 1582) By Jacques Patin
IMAGE LINKED:  wikimedia Attribution 4.0 International (CC BY 4.0)
Other important 'excellences of character', to which the charge refers, are secrecy, fidelity, and obedience.
This section is really talking about how Freemasons should behave in the context of the craft and lodge meetings. However, by simple induction, it is clear that these qualities should be practiced in general.
Certainly, we should be relied on to be discrete when someone confides in us. We should always abstain from getting drawn into gossip, in the full knowledge that people do not want their business openly discussed.
Further, there is also an element of personal secrecy that is practiced by the true gentleman.
As a general rule, personal business of any kind should be avoided in open discussion.
General fidelity and loyalty is obviously important in life. A gentleman's word is his bond, and he is loyal to the last.
However, this section of the charge also mentions that one should abstain from discussing all topics of religious or political nature.
These have been general taboos for centuries but appear to be dissolving in recent years. Social media, an extension of and addition to the traditional social forum, has brought about the apparent need to discuss political and religious opinions at length.
Naturally, this often leads to opposition and general bad feeling. Of course, most people have an opinion when it comes to religion and politics, and not everyone can agree.
It simply makes sense that the practicing gentleman keeps his opinion to himself on these divisive topics, merely for the sake of civility.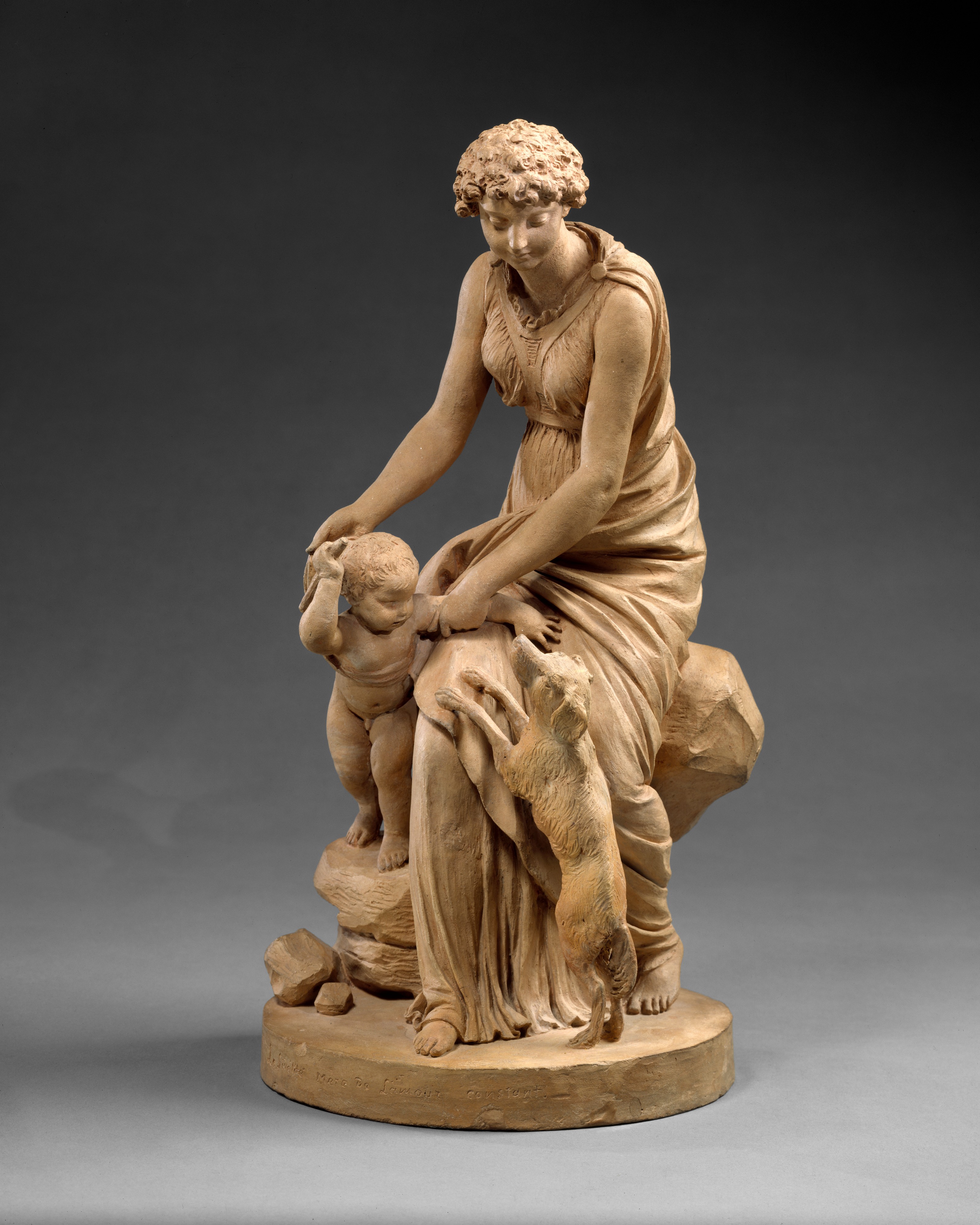 Fidelity, the Mother of Constant Love – Artist: Augustin Pajou, 1799.
IMAGE LINKED:  Open Access PD Mark – Metropolitan Museum of Art – Attribution 4.0 International (CC BY 4.0)
The final excellence of character is obedience. This, again, is important in life. Simply obeying the law will keep our lives running smoothly.
There are rules everywhere and making sure we follow them reduces friction and chaos in our systems.
Where there are unjust rules and laws, then these should be fought with civility and intelligence.
Towards its end the charge exhorts us to dedicate ourselves to such pursuits that will be able to be respectable in life, and useful to mankind.
The ideal gentleman does not rest lazily, being of no use to anyone. Indeed, he makes the best use of himself and his talents to be of maximum service.
Of course, his fortitude also gives him a good idea of how he should be compensated, as required, for his efforts.
I will always remember a respected lodge of instruction preceptor telling me that if I learn the charge, as soon as I can, then that conveys everything that the Craft is about.
Freemasonry should not be regarded as a hobby, more a way of life.
It is no accident that the guidelines of Masonic behaviour are also those of the gentleman.
It may even be said that Freemasonry is the gentleman's club of all gentlemen's clubs, if you pardon the expression, given its public commencement in the era of so many such institutions.
Image by Gerd Altmann from Pixabay
It is my observation that the standards of the recent past are slipping.
There seems to be less and less respect in the world, and the younger generation can be observed, in some instances, as having no real idea that there are social observances that can help them immensely.
Although, perhaps this observation happens to everyone, in every generation, once they reach as certain age.
Regardless, behaving like a gentleman is no bad thing. By making sure that we observe these social guidelines, our experiences and interactions with others will continue to be truly enhanced.
Article by: Craig Weightman
Craig Weightman grew up in Hinckley, Leicestershire and was educated at the University of Leicester, gaining a degree in Psychology and Computer Science.
He was initiated into Freemasonry in 2003, and became master of his lodge in 2014.
Outside of his interests in Freemasonry, Craig is a lecturer in Computer Games Design and Computer Science at a college in Warwickshire. He also develops websites for businesses.
Craig is the author of 'A Journey in Stone'.
A Journey in Stone – Extracts of Wisdom p.4
The Working Tools of the First Degree – the twenty-four-inch gauge. This book collates masonic author and psychologist, Craig Weightman's collective wisdom and philosophy, taking you on a fascinating 'journey in stone'.
more....
A Journey in Stone – Extracts of Wisdom p.3
This book collates masonic author and psychologist, Craig Weightman's collective wisdom and philosophy, taking you on a fascinating 'journey in stone'.
more....
Unity and Duality
Craig continues his previous exploration into the 'hero's journey' through life's travails; this month we discover how within the stormy sea of battling opinion and confusion, there is an island called Freemasonry.
more....
A Journey in Stone – Extracts of Wisdom p.2
This book collates masonic author and psychologist, Craig Weightman's collective wisdom and philosophy, taking you on a fascinating 'journey in stone'.
more....
A Journey in Stone – Extracts of Wisdom
For those who have enjoyed Craig Weightman's thought-provoking and inspiring monthly features, this book collates his collective wisdom and philosophy, taking you on a fascinating 'journey in stone'.
more....
The Season of Renewal
This spectacle takes place at the same time every year. Literally, the sun 'dies' for three days, then is reborn on the Christmas morning.
more....
Coming to Terms with the Great War Within Ourselves
Discover your 'shadow' - the black-and-white path to self-awareness - "A man who is possessed by his shadow is always standing in his own light and falling into his own traps...living below his own level." - Carl Jung
more....
The Masonic Art of Being a Gentleman
What defines the masonic art of being a gentleman; a chivalrous, courteous, or honourable man?
more....
Decoding the Square and Compasses
The square and compasses is the most famous symbol with which Freemasonry is identified. However, this is not just a logo that helps the organisation to stand out from the rest.
more....
While it is yet day
Each moment is a gift that you can make the most of. We can all do more; many of us do not live our lives to the full.
more....
The Mason's Journey
The hero's journey can also be seen in the Masonic system; a candidate first considers embarking on the Masonic journey but wonders whether it is really for him
more....
Those Talents Wherewith God Has Blessed You
Incorporated in the charge to the initiate, has a lasting impression of what Freemasonry is all about.
more....
The Great Architect of the Universe
When a candidate for 'Regular' Freemasonry is interviewed, prior to being admitted, he is always asked if he believes in a Supreme Being.
more....
Meet the Author
Craig Weightman – author of A Journey in Stone
more....
to be a better citizen of the world
share the square with two brothers
click image to open email app on mobile device