Critical thinking is the ability to think clearly and rationally, understanding the logical connection between ideas.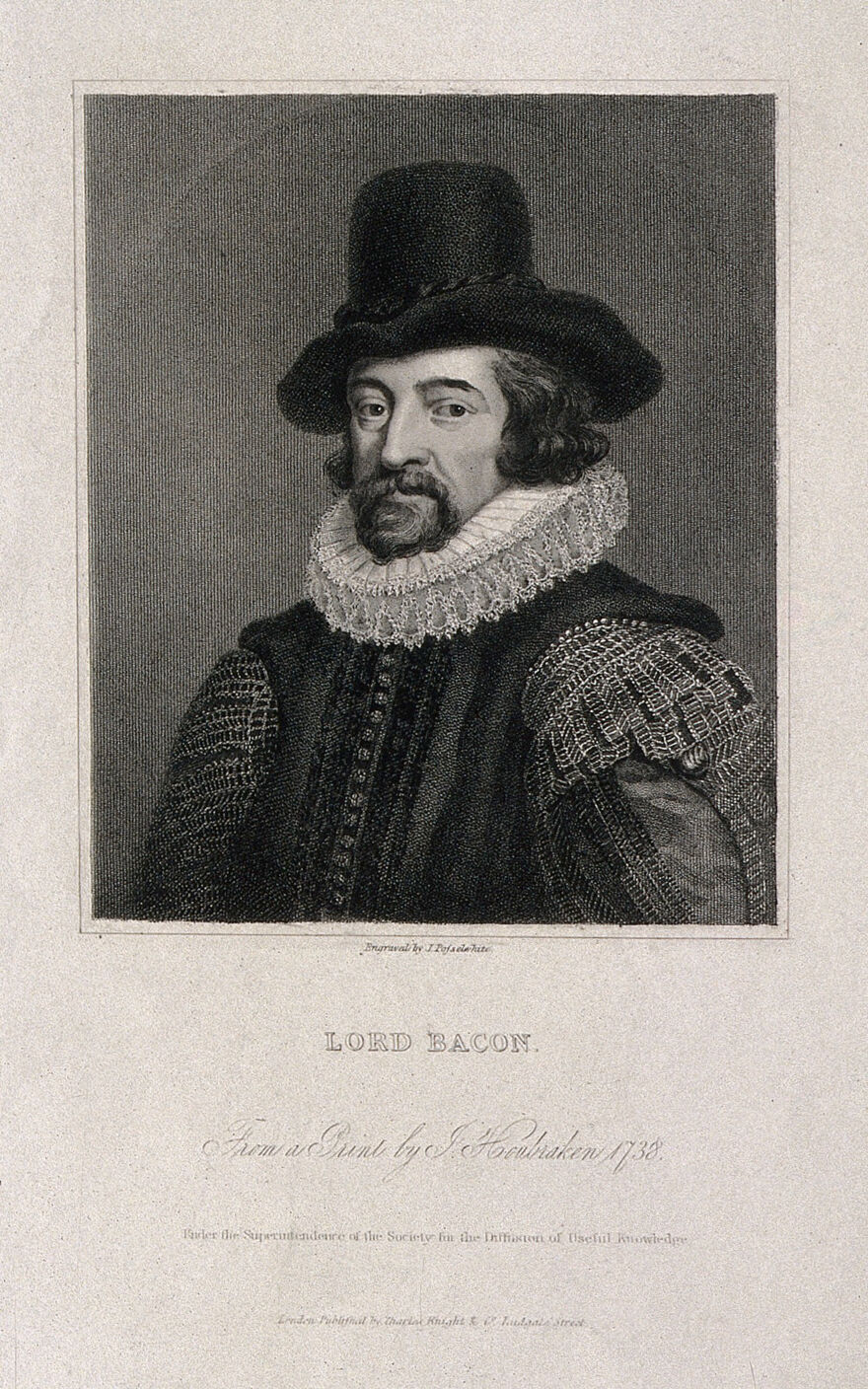 Francis Bacon, Viscount St Albans. Stipple engraving by J. Posselwhite after J. Houbraken, 1738.
IMAGE LINKED:  Wellcome Collection Attribution 4.0 International (CC BY 4.0)
Critical thinking is a desire to seek, patience to doubt, fondness to meditate, slowness to assert, readiness to consider, carefulness to dispose and set in order; and hatred for every kind of imposture.
 ~ Francis Bacon (1605)
We know that Logic is the third step of the Trivium within the Seven Liberal Arts. Logic directs and guides us after truth. It consists of a regular train of argument where we deduce or infer from the facts. Logic leads us to conclusions based on our knowledge.
A critical thinker is someone who looks between the lines. Someone who knows to look beyond words. Someone that doesn't blindly believe what they hear and instead ponders it for resonance.
What are some of the characteristics of a critical thinker?
It may be someone who goes against the narrative
Someone who listens to what's not said. Some one who can assimilate, quantify, rationalize, analyse, conceptualize information
Critical thinking 101 =  analysing and evaluating  a subject to form an observation or judgement. I am a very analytical thinker which I suppose is closely related to critical thinking too. Thinking is fun.
 Generally calm demeanour – someone who is even-tempered, perhaps even calm – an ability to remove any and all emotion. In some cases it is seen that those who are over-emotional, or have an reactive personality can claim capability of critical thought but are often quite the opposite.
Methodical thought patterns – displaying a systematic and alpha-omega-like thinking process that can basically be broken down into an algebraic equation, which can be applied to problem solving and decision making, in order to make the best decisions, for the best possible odds, for the best outcomes. Also, may include a theory of deduction, as part if the process. It's intriguing, profound and highly effective.
Disciplined self-routines – somebody who has a high quality toolset and knows how to apply them to achieve a more thorough process of discernment, and giving as much due diligence as needed to all points raised and seeking out ones that weren't.  Best possible attempt to remain as unbiased as possible by being honest and accepting things you don't prefer when all evidence proves otherwise.
The humility to concede to being corrected – someone who can hear an opposing viewpoint without responding emotionally (anger, sadness), who can observe the moment from outside their own reference point and see another persons perspective with clarity, expanding the mind into clear pictures of the prisms of varying perspectives and possibilities surrounding an issue,  to analyse thoroughly,  retaining consistency among a variety of decisions and searching for hypocrisy in ones own beliefs in order to weed it out, and to avoid self-deception by carefully monitoring oneself for duplicity and pride.  To be humble and analyse ideas without ego getting in the way.
We live in a world where unfortunately the distinction between true and false appears to become increasingly blurred by manipulation of facts, by exploitation of uncritical minds, and by the pollution of the language.
~ Arne Tiselius
You must always be willing to truly consider evidence that contradicts your beliefs, and admit the possibility that you may be wrong.
Intelligence is not knowing everything. It is the ability to challenge everything you know.
Logical discussion is not a argument to prove who is right or wrong, but to find out what is right or wrong.
Thinking, Fast and Slow
by Daniel Kahneman
In the international bestseller, Thinking, Fast and Slow, Daniel Kahneman, the renowned psychologist and winner of the Nobel Prize in Economics, takes us on a ground breaking tour of the mind and explains the two systems that drive the way we think.
System 1 is fast, intuitive, and emotional;
System 2 is slower, more deliberative, and more logical.
The impact of overconfidence on corporate strategies, the difficulties of predicting what will make us happy in the future, the profound effect of cognitive biases on everything from playing the stock market to planning our next vacation―each of these can be understood only by knowing how the two systems shape our judgments and decisions.
Critical Thinking Skills For Dummies
by Martin Cohen
Turbocharge your reasoning with Critical Thinking Just what are the ingredients of a great argument?
What is the secret to communicating your ideas clearly and persuasively?
And how do you see through sloppy thinking and flim-flam? If you ve ever asked any of these questions, then this book is for you!
These days, strong critical thinking skills provide a vital foundation for academic success, and Critical Thinking Skills For Dummies offers a clear and unintimidating introduction to what can otherwise be a pretty complex topic.
Inside, you'll get hands-on, lively, and fun exercises that you can put to work today to improve your arguments and pin down key issues.
With this accessible and friendly guide, you'll get plain-English instruction on how to identify other people's assumptions, methodology, and conclusions, evaluate evidence, and interpret texts effectively.
You'll also find tips and guidance on reading between the lines, assessing validity and even advice on when not to apply logic too rigidly! Critical Thinking Skills for Dummies:
* Provides tools and strategies from a range of disciplines great for developing your reflective thinking skills
* Offers expert guidance on sound reasoning and textual analysis
* Shows precisely how to use concept mapping and brainstorming to generate insights
* Demonstrates how critical thinking skills is a proven path to success as a student
Whether you're undertaking reviews, planning research projects or just keen to give your brain a workout, Critical Thinking Skills For Dummies equips you with everything you need to succeed.
A Field Guide to Lies:
Critical Thinking with Statistics
and the Scientific Method
by Daniel J. Levitin
We are bombarded with more information each day than our brains can process–especially in election season.
It's raining bad data, half-truths, and even outright lies. 
New York Times bestselling author Daniel J. Levitin shows how to recognize misleading announcements, statistics, graphs, and written reports, revealing the ways lying weasels can use them.
It's becoming harder to separate the wheat from the digital chaff.
How do we distinguish misinformation, pseudo-facts, and distortions from reliable information?
Levitin groups his field guide into two categories
–statistical information and faulty arguments
–ultimately showing how science is the bedrock of critical thinking.
Infoliteracy means understanding that there are hierarchies of source quality and bias that variously distort our information feeds via every media channel, including social media.
We may expect newspapers, bloggers, the government, and Wikipedia to be factually and logically correct, but they so often aren't.
We need to think critically about the words and numbers we encounter if we want to be successful at work, at play, and in making the most of our lives.
This means checking the plausibility and reasoning–not passively accepting information, repeating it, and making decisions based on it.
Readers learn to avoid the extremes of passive gullibility and cynical rejection.
Levitin's charming, entertaining, accessible guide can help anyone wake up to a whole lot of things that aren't so.
And catch some weasels in their tracks!
share the square with two brothers
click image to open email app on mobile device