Following on from the previous article – 'Benjamin Franklin's Virtues, Freemasonry, and Jewish Practice,' by Shai Afsai – we here reproduce the 'Thirteen Virtues' listed by Franklin, and the list of questions that were pondered by members of The Junto, a club established by Franklin for the purpose of debate and self-improvement.
Franklin was initiated into his local Masonic lodge in 1730/1731.
He became a Grand Master in 1734, The same year, he edited and published the first Masonic book in the Americas, a reprint of James Anderson's Constitutions of the Free-Masons.
He was the secretary of St. John's Lodge in Philadelphia from 1735 to 1738, and remained a Freemason for the rest of his life.
These virtues and the pursuit of self-improvement and knowledge, are as pertinent for today's Mason as they were for Benjamin Franklin.
Franklin sought to cultivate his character by a plan of 13 virtues, which he developed at age 20 (in 1726) and continued to practice in some form for the rest of his life.
His autobiography lists his 13 virtues as:
Temperance

. Eat not to dullness; drink not to elevation.

Silence

. Speak not but what may benefit others or yourself; avoid trifling conversation.

Order

. Let all your things have their places; let each part of your business have its time.

Resolution

. Resolve to perform what you ought; perform without fail what you resolve.

Frugality

. Make no expense but to do good to others or yourself; i.e., waste nothing.

Industry. Lose no time; be always employ'd in something useful; cut off all unnecessary actions.

Sincerity

. Use no hurtful deceit; think innocently and justly, and, if you speak, speak accordingly.

Justice

. Wrong none by doing injuries, or omitting the benefits that are your duty.

Moderation

. Avoid extremes; forbear resenting injuries so much as you think they deserve.

Cleanliness

. Tolerate no uncleanliness in body, clothes, or habitation.

Tranquility

. Be not disturbed at trifles, or at accidents common or unavoidable.

Chastity

. Rarely use 

venery

 but for health or offspring, never to dullness, weakness, or the injury of your own or another's peace or reputation.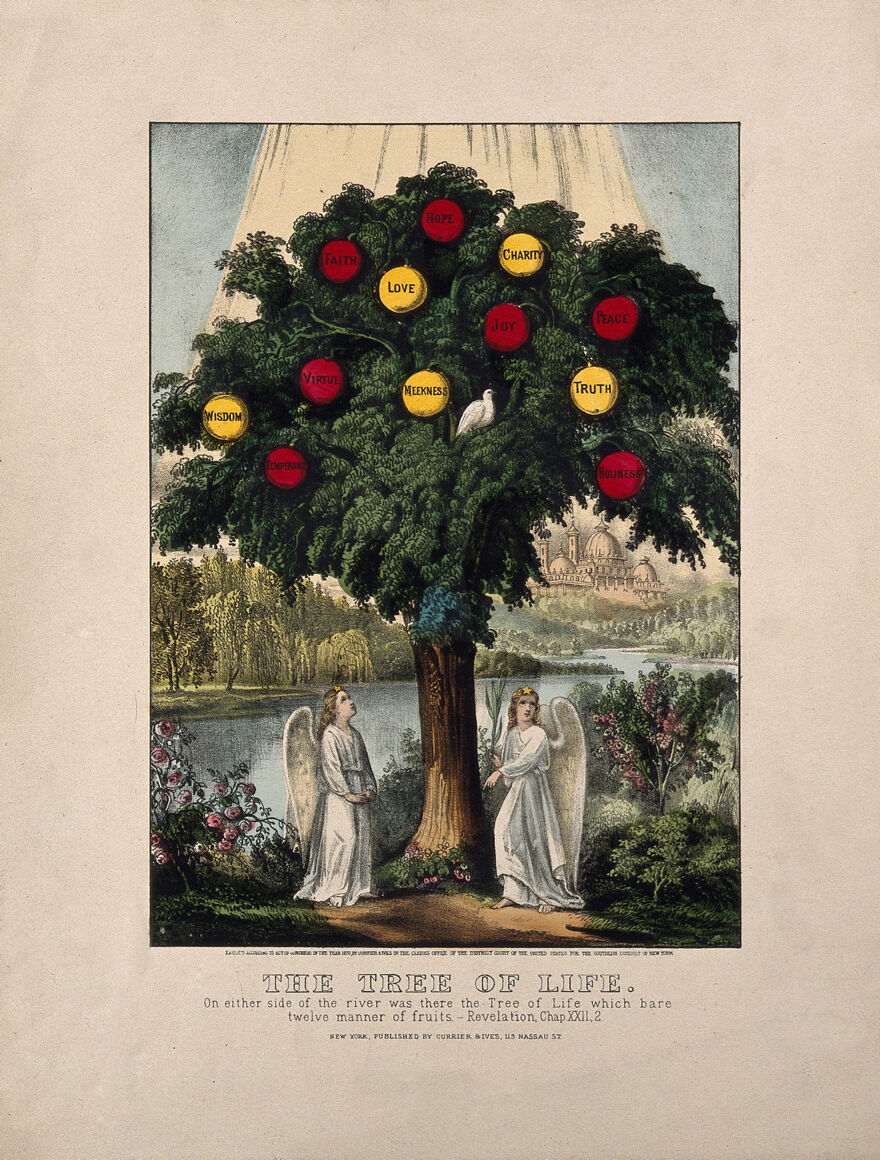 A tree bearing apples labelled with virtues; representing the life of Christian virtue. Coloured lithograph, 1870, after J. Bakewell, 1771.
IMAGE LINKED:  Wellcome Collection. Attribution 4.0 International (CC BY 4.0)>
Franklin did not try to work on them all at once. Instead, he would work on one and only one each week 'leaving all others to their ordinary chance'.
While Franklin did not live completely by his virtues, and by his own admission he fell short of them many times, he believed the attempt made him a better man contributing greatly to his success and happiness, which is why in his autobiography, he devoted more pages to this plan than to any other single point; in his autobiography Franklin wrote, 'I hope, therefore, that some of my descendants may follow the example and reap the benefit.'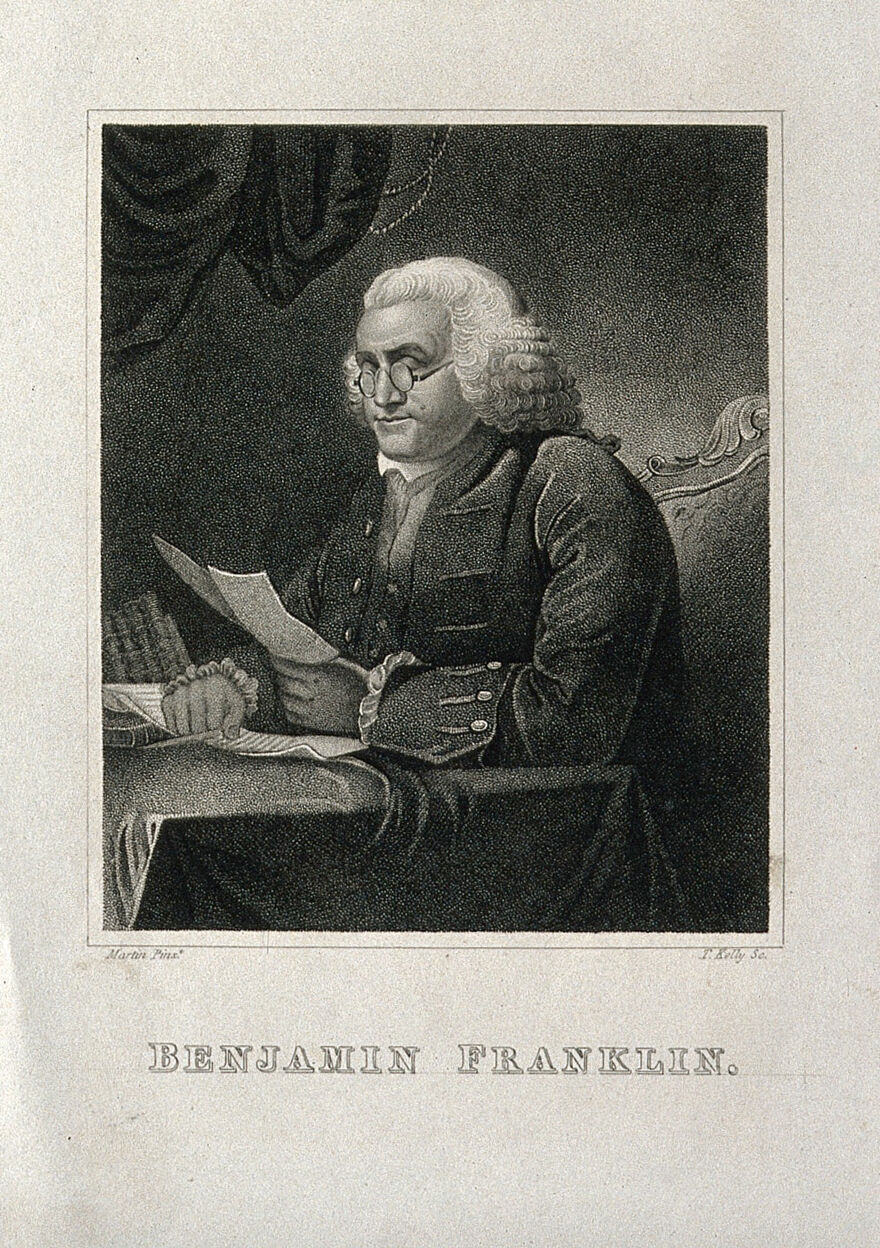 Benjamin Franklin. Stipple engraving by T. Kelly after D. Martin, 1767.
IMAGE LINKED:  Wellcome Collection. Attribution 4.0 International (CC BY 4.0)>
Franklin established The Junto, also known as the Leather Apron Club, in Philadelphia in 1727.
It was a club for mutual improvement and its purpose was to debate questions of morals, politics, and natural philosophy, and to exchange knowledge of business affairs.
The group, initially composed of twelve members, called itself the Junto (from the Spanish word junta, or assembly).
The members were drawn from diverse occupations and backgrounds, but they all shared a spirit of inquiry and a desire to improve themselves, their community, and to help others.
At just 21, he oversaw five men, including Hugh Meredith, Stephen Potts, and George Webb, who were soon to form the core of the Junto.
Franklin was an outgoing, social individual and had become acquainted with these businessmen. This gathering included prominent merchants who met informally to drink and discuss the business of the day.
Franklin's congenial ways attracted many unique and learned individuals, and from these, he selected the members for the Junto.
Franklin describes the formation and purpose of the Junto in his autobiography:
I should have mentioned before, that, in the autumn of the preceding year, [1727] I had form'd most of my ingenious acquaintance into a club of mutual improvement, which we called the Junto; we met on Friday evenings.

The rules that I drew up required that every member, in his turn, should produce one or more queries on any point of Morals, Politics, or Natural Philosophy, to be discuss'd by the company; and once in three months produce and read an essay of his own writing, on any subject he pleased.

Our debates were to be under the direction of a president, and to be conducted in the sincere spirit of inquiry after truth, without fondness for dispute or desire of victory; and to prevent warmth, all expressions of positiveness in opinions, or direct contradiction, were after some time made contraband, and prohibited under small pecuniary penalties.
All members lived in Philadelphia and came from diverse areas of interest and business.
Along with Meredith, Potts, and Webb, they included Joseph Breintnall, merchant and scrivener, who also loved poetry and natural history.
Thomas Godfrey was a glazier, mathematician, and inventor; and Nicholas Scull and William Parsons were both surveyors.
Scull was also a bibliophile and Parsons a cobbler and astrologer.
William Maugridge was a cabinetmaker, William Coleman a merchant's clerk, and Robert Grace a gentleman.
Grace's wealth meant he did not have to work, but apparently he brought an intellectual element to the group and a fine library.
The twelfth member of the Junto remained a mystery until 2007, when Professor George Boudreau of Penn State discovered a long-forgotten account of the club's refreshments, and verified that shoemaker John Jones Jr. was an original member.
Jones was a Philadelphia Quaker, a neighbour of Franklin's, and later a founding member of the Library Company of Philadelphia.
The club met Friday nights, first in a tavern and later in a house, to discuss moral, political, and scientific topics of the day.
The Junto's Friday evening meetings were organized around a series of questions that Franklin devised, which covered a range of intellectual, personal, business, and community topics.
These questions were used as a springboard for discussion and community action. Through the Junto, Franklin promoted such concepts as volunteer fire-fighting clubs, improved security (night watchmen), and a public hospital.
List of Questions
This is the list of questions Franklin devised to guide the discussions at Junto meetings (from Franklin's papers, dated 1728, and included in some editions of his autobiography):
Have you met with anything in the author you last read, remarkable, or suitable to be communicated to the Junto? Particularly in history, morality, poetry, physics, travels, mechanic arts, or other parts of knowledge?


What new story have you lately heard agreeable for telling in conversation?

Has any citizen in your knowledge failed in his business lately, and what have you heard of the cause?

Have you lately heard of any citizen's thriving well, and by what means?

Have you lately heard how any present rich man, here or elsewhere, got his estate?

Do you know of any fellow citizen, who has lately done a worthy action, deserving praise and imitation? or who has committed an error proper for us to be warned against and avoid?

What unhappy effects of intemperance have you lately observed or heard? of imprudence? of passion? or of any other vice or folly?

What happy effects of temperance? of prudence? of moderation? or of any other virtue?

Have you or any of your acquaintance been lately sick or wounded? If so, what remedies were used, and what were their effects?

Who do you know that are shortly going [on] voyages or journeys, if one should have occasion to send by them?

Do you think of anything at present, in which the Junto may be serviceable to mankind? to their country, to their friends, or to themselves?

Hath any deserving stranger arrived in town since last meeting, that you heard of? and what have you heard or observed of his character or merits? and whether think you, it lies in the power of the Junto to oblige him, or encourage him as he deserves?

Do you know of any deserving young beginner lately set up, whom it lies in the power of the Junto any way to encourage?

Have you lately observed any defect in the laws, of which it would be proper to move the legislature an amendment? Or do you know of any beneficial law that is wanting?

Have you lately observed any encroachment on the just liberties of the people?

Hath anybody attacked your reputation lately? and what can the Junto do towards securing it?

Is there any man whose friendship you want, and which the Junto, or any of them, can procure for you?

Have you lately heard any member's character attacked, and how have you defended it?

Hath any man injured you, from whom it is in the power of the Junto to procure redress?

In what manner can the Junto, or any of them, assist you in any of your honourable designs?

Have you any weighty affair in hand, in which you think the advice of the Junto may be of service?

What benefits have you lately received from any man not present?

Is there any difficulty in matters of opinion, of justice, and injustice, which you would gladly have discussed at this time?

Do you see any thing amiss in the present customs or proceedings of the Junto, which might be amended?
Any person to be qualified as a member was to stand up, lay his hand upon his chest, over his heart, and be asked the following questions, viz.
Have you any particular disrespect to any present members? 

Answer.

 I have not.


Do you sincerely declare that you love mankind in general, of what profession or religion soever? 

Answer.

 I do.

Do you think any person ought to be harmed in his body, name, or goods, for mere speculative opinions, or his external way of worship? 

Answer.

 No.

Do you love truth for truth's sake, and will you endeavor impartially to find and receive it yourself, and communicate it to others? 

Answer.

 Yes.
Benjamin Franklin's Book of Virtues
This pocket-sized hardcover edition contains all thirteen "moral virtues" as Benjamin Franklin wrote them in his memoirs, first posthumously published in 1791. 
In the heart of this larger work–today known as The Autobiography of Benjamin Franklin–he writes of the "bold and arduous Project of arriving at Perfection" that he set for himself as a young man.
In this task for perfection, young Benjamin prepared a catalog of thirteen necessary or desirable virtues that he might strive to acquire by means of habit and daily practice.
This Applewood Books edition includes a chart that Benjamin Franklin used to track his personal progress towards perfection.
Recent Articles: Ben Franklin series
Fools need advice most, but wise men only are the better for it. This quote suggests that while everyone can benefit from advice, it is only those who possess wisdom who can truly understand and appreciate its value.

Be at war with your vices, at peace with your neighbours. - This quote suggests that we should constantly strive to improve ourselves and overcome our own weaknesses and bad habits, while also maintaining a peaceful and harmonious relationship with those around us.

Fools need advice most, but wise men only are the better for it. - This quote suggests that while everyone can benefit from advice, it is only those who possess wisdom who can truly understand and appreciate its value.

A soft tongue may strike hard - This quote is suggesting that even though someone may speak in a gentle or kind manner, their words can still have a strong impact. It's similar to the idea of a "silent but deadly" weapon.

"A man in a passion rides a mad horse" suggests that when a person is controlled by their emotions, they can act recklessly and make poor decisions, similar to how a rider on a mad horse is out of control and can lead to danger.

"A child thinks 20 shillings and 20 years can scarce ever be spent" quote suggests that a child has an innocent and optimistic view of the future, believing that time and money are abundant and will never run out. The child may believe that 20 shillings, which is a small sum of money, is enough to last a lifetime and that 20 years, which may seem like a long time to a child, will never be over.

A short story why Every Freemason is a window through which other will see and decide from the experience what will be their opinion of Freemasonry

Franklin's Virtues Revisited For Today's Mason
How are the virtues and the pursuit of self-improvement and knowledge as pertinent for today's Mason, as they were for Benjamin Franklin.

Benjamin Franklin's Virtues, Freemasonry, and Jewish Practice and Discover his thirteen behavioural traits

According to Benjamin Franklin's letters, he took the inspiration for two of his parables "from an ancient Jewish tradition".

Recent Articles: history series
Unveiling the Enigma: Discover the Royal Society's Legacy and its Impact on Science. Delve into the fascinating history of the Royal Society, the prestigious UK academy shaping scientific progress since 1660. Explore its pivotal role in advancing knowledge, fostering collaboration, and unlocking the secrets of the universe. Prepare to be amazed!

Knights Templar in Freemasonry
Uncover the Mysteries of the Knights Templar in Freemasonry! Delve into the intriguing world where chivalry and symbolism intertwine. Discover the captivating rituals and ancient secrets behind the Knights Templar Masonic Orders. Explore the historical connection and delve into the enigmatic narratives that continue to fascinate enthusiasts today. Unveil the hidden truths now!

The Royal Arch stands as the rainbow of promise in the Ritual; it stands as the promise of the resurrection; of that which was lost and that it shall be recovered. The question arises as to whether the Master's Word was originally communicated in the Third Degree? On this point there is some diversity of opinion. Originally published in 1915, this insight into the Fourth Degree – the Holy Royal Arch – is as relevant today as it was over 100 years ago.

Unveiling the Mysteries of Druidism: Discover the Intriguing Connection with Freemasonry. Explore the ancient spiritual practice of Druidism and its fascinating ties to the enigmatic world of Freemasonry. Delve into the shared symbolism and rituals that have captivated minds for centuries. Unlock the secrets of these intertwined traditions today!

Uncover the legacy of freestone masons and their pivotal role in crafting medieval cathedrals. Discover the artistry behind their techniques, the hierarchy within their craft, and the enduring impact of their intricate carvings. A deep dive into the world of these master craftsmen awaits you!

Unearth the intriguing journey from Vincha Culture to Freemasonry. Discover how ancient building methods intertwine with modern Masonic philosophies. This exploration will shed light on the fascinating link between the Serbian term "shestarenye" and the symbolic significance of the compass in Freemasonry.
Alex Lishanin examines the surprising connection between ancient building techniques and modern-day Masonic philosophy.

Freemasonry and the Illuminati
Unravel the enigmatic world of Freemasonry and the Illuminati in our latest exposé. Dive into centuries-old mysteries, debunk conspiracy theories, and discover the truth behind these elusive societies. Are they puppet masters or mere myths? Join us as we dissect history and fact from fiction.

The Île des Templiers, or "Island of the Templars" lies within a leafy park in Paris. The execution site of Jacques du Molay, the last Grand Master of the Knights' Templar bears a plaque with the epitaph 'A cet endroit / Jacques de Molay / Dernier grand maître / de l'ordre du temple / a été brûlé le 18 Mars 1314' ('In this location / Jacques de Molay / Last grand master / of the order of the temple / was burned on 18 March 1314')

Operative Progressions to Speculative Masonry
Both Operative and Speculative Masonry are an important part of the modern fraternity of Freemasonry, which combines elements of both traditions. Today, Freemasonry is a fraternity that is open to men of good character, who are interested in personal development and in making a positive contribution to their communities.

General Regulations of a Free Mason, 1723
General Regulations of a Free Mason as contained in Anderson's Constitutions of the Freemasons, published 1723. the Regulations are of great historical interest. Compiled by George Payne, the second Grand Master of the Premier Grand Lodge of England, they were printed in 1722/3, thus published just over five years after the formation of the Grand Lodge 1717.

The Genesis of the 1723 Book of Constitutions
2023, marks the three hundredth anniversary of the publication of the first printed Book of Constitutions of the Grand Lodge formally established in London two years previously. This is an anniversary whose significance extends beyond freemasonry. A paper by Andrew Prescott

The Ritual of the Operative Free Masons - P3
Existing Operative Free Masons. The ritual I am about to refer, is that of "The Worshipful Society of Free Masons, Rough Masons, Wallers, Slaters, Paviors, Plaisterers, and Bricklayers." By Thomas Carr, M.D., P. M. Honorary Member of the Guild of Operative Free Masons

Liberté chérie was a Masonic Lodge founded in 1943 by Belgian Resistance fighters and other political prisoners at Esterwegen concentration camp. It was one of the few lodges of Freemasons founded within a Nazi concentration camp during the Second World War.

The Ritual of the Operative Free Masons - P2
If anyone doubts the fact that the formation of Speculative Free Masonry was due to and based upon Operative Free Masonry, it is quite easy to convince him of his error if he will only study the first Book of Constitutions. By Thomas Carr, M.D., P. M. Honorary Member of the Guild of Operative Free Masons

In 1881, Freemasonry rose from the ashes of a fire in the mining town of Kokomo, Summit County, Colorado. Corinthian Lodge No. 42, along with Kokomo, no longer exists but it holds the record of having been – at an elevation of 10,618 feet – the highest Masonic Lodge in the USA.

The Huguenots and Early Modern Freemasonry
The Huguenots influence in the development of early modern Freemasonry at the time of the formation of the Grand Lodge in London around 1717 / 1723.

November is a month of reflection – perhaps due to the fact that we are getting close to the years' end – but also because Remembrance / Armistice Day (11 November) is a significant date in most countries' diaries.

Speculative Freemasonry, as practise by Grand Lodge of England, was officially born just over three hundred years ago, is today an international organisation, counting over six million members. It has been subjected to persecution, suppression, and abolition throughout its history. In its infancy, only a couple of decades after its official birth, it had already become a target.

The Ritual of the Operative Free Masons - P1
The original paper was written, first, to prove that Speculative Free Masonry was derived from Operative Free Masonry; second, to give some account of the Operative Free Masons, of their Ritual, and of their customs. By Thomas Carr, M.D., P. M. Honorary Member of the Guild of Operative Free Masons

American Fraternalism in the 19th and Early 20th Centuries
The late 19th and early 20th centuries in the United States has been called the "Golden Age of Fraternalism." How did this come about and why was the idea of joining a fraternal organization so popular? We will explore this question and examine the regalia used by many fraternal organizations in this period.

Societas Draconistarum, meaning "Society of the Dragonists"– was a chivalric Order for selected nobility, founded in 1408 by Sigismund von Luxembourg, who through marriage became the King of Hungary (1387–1437) and later Holy Roman Emperor. The Order was fashioned after the military orders of the Crusades, requiring its initiates to defend the cross and fight the enemies of Christianity, in particular the Ottoman Empire.

The Perjured Free Mason Detected
Was Samuel Prichard a perjured individual, or simply a misguided Freemason? Prichard's book "Free Masonry Dissected" published in 1730, is now used by many Masonic historians as a source of reference with regards to the introduction of the third degree into the Craft. But at the time it was published in 1730, it was not so well received by members of the Grand Lodge of England.

17th century and the Holy Royal Arch
This article focuses on a period of transition between a point in time when we can safely and historically identify the first formation of what could be called as the 'Royal Arch' and the historical events that have preceded it.

Most Freemasons have heard the terms 'Operative' and 'Speculative' Masons, and this article helps to understand the difference:

Roberts' Constitutions of Freemasonry 1722
Published a year before Anderson's Constitutions, The Old Constitutions Belonging to the Ancient and Honourable SOCIETY OF Free and Accepted MASONS. Originally printed in London England; Sold by J. Roberts, in Warwick-Lane, MDCCXXII.(1722)

From 'Songs of religion and life', 1876 by John Stuart Blackie (1809-1895)

On the Antiquity of Masonic Symbolism
Is the Symbolism of Masonry an inheritance derived from the old Masons who flourished before the era of the Grand Lodges (1717); or has it been borrowed from the Rosicrucians or others, after 1717?

Mason's Marks – from Egypt to Europe?
Mason's marks have been a source of intrigue, not only to Freemasons but to historians and archaeologists. The use of simple pictograms have been employed for millennia by artisans to identify their work. But where did they originate and why?

The White House Foundation Stones
Further to the articles in our series on the history of the stone masons, we have a rather intriguing addition. During the 1950's renovation of the White House, President Truman retrieved more than 100 stone blocks with stonemasons marks.

What the Goose and Gridiron Tavern is in the ancient annals of London Freemasonry, The Green Dragon Tavern is to the memories of the Free-mason, of Boston and New England.

Auschwitz concentration camp: video photo article taken in 2013

There are two things of importance happening this day - 27 January

Two approaches regarding the understanding of Freemasonry

Masonic Research in England c1930
An article which appeared in an American Masonic magazine, c1930 and which was reproduced in England, provoking a little controversy.

Masonic bookplates the 'Brethren's spiritual coats of arms and marks'

The Unlawful Societies Act of 1799
Rebellious Freemasons and the 21st century

In 1912, Sarah Dowd of Dromore, Ireland, found a Masonic jewel dated 1517 - a date two hundred years before the establishment of Grand Lodge...

Freemasonry and Fascist Regime
Interesting speech by the famous historian Prof. Aldo A. Mola, who links the fascist regime with the Masonic Associations.

Was famous Russian poet Alexander Pushkin a Freemason? And if so, was he a member of the lodge 'for which all the lodges in Russia were destroyed'?

The Importance of Masonic Research
Why is accurate - or authentic - Masonic research so important? The importance of making a daily advancement in Masonic knowledge is something that The Square is passionate about promoting.

The Antient Noble Order of the Gormogons had a brief existence in the eighteenth century; they left few records or accomplishments,

to be a better citizen of the world
share the square with two brothers
click image to open email app on mobile device