This writer had heard the name Sir Robert Moray, and was vaguely familiar with his connection to Freemasonry; particularly the claim that he was the first speculative Freemason to be initiated on English soil.
He was further aware that he was a founder member of the Royal Society.
He learned of an Installation ceremony at the Sir Robert Moray Lodge of Research No. 1641 in Edinburgh, where a senior, and well respected member of the Craft in Scotland, was to be re-installed as Master, with a Brother of equal celebrity being installed as his Depute.
The Installation ceremony was conducted by no less a personage than a Scottish nobleman, and Past Grand Master of the Grand Lodge of Scotland who in addition to having family associations with Moray, was instrumental in founding the Lodge.
It was evident that if such eminent present-day Freemasons were associated with a research Lodge in Sir Robert Moray's name, then the man for whom the Lodge was named must be very highly regarded indeed; even the Lodge number on the Roll of the Grand Lodge of Scotland relates to the year of Moray's initiation into the Craft.
The present author subsequently attended the Lodge on a few occasions.
This prompted a closer look at this notable gentleman of yesteryear, who it was found, may have been born in Perthshire.
Having been born and raised in Perthshire himself, and subscribing to the notion that many good things come out of the 'Big Tree County,' this writer became even more intrigued.
Indeed, his interest was piqued even further when it became clear, that Sir Robert Moray's family had for centuries resided only a few miles from his hometown of Crieff in Perthshire.
SIR ROBERT MORAY AND THE CRAFT
Sir Robert Moray was born on 10 March in either 1608 or 1609, none seem too sure about this, and a check on the Mormon International Genealogical Index (IGI) on which this writer has heavily relied upon in previous research, did not confirm it one way or other.
The uncertainty about the year of his birth seems to stem from the fact that there was a difference in English and Scottish calendars at that particular time.
We will examine Moray's family history shortly, but before doing so, it is important to take a brief look at the career of the man in question.
Anyone wishing to learn about the life of Sir Robert Moray in greater detail should consult Professor David Stevenson's seminal work on early Scottish Freemasonry: The Origins of Freemasonry
Little is known of his early life; and much of what is known, is culled from letters he wrote to Alexander Bruce in later life, which have been chronicled by Professor Stevenson.
Some writers and researchers suggest that his birth was in Perthshire, and this writer had to assume that he was born at Abercairney in Perthshire, where his family had been resident for centuries.
However, the fact that his father later assumed the title 'Sir Mungo Moray of Craigie' confounds this theory somewhat, and suggests that perhaps Robert was born in an area associated with that title.
This writer is only aware of two places by the name of 'Craigie' in Perthshire; one, a housing estate in the city of Perth, and the other, a small hamlet a few miles west of the town of Blairgowrie.
However, the IGI records, referred to earlier, do throw up some interesting and perhaps fundamentally important information.
The records show a Robert Moray, born 'about 1599' to a Mungo Moray; the mother referred to only by her surname Halkett.
This Robert Moray was born at 'Craigie, Of Ayr'. There are two such place-names in Ayrshire, one of which is near to Tarbolton (a place associated with another famous Freemason Robert Burns).
Apart from the year of birth, everything else fits neatly with our Sir Robert Moray.
What an additional coup it would be for that area if it were to be proved that Sir Robert Moray first saw the light of day there.
Of course, it may simply be a coincidence, and it should also be pointed out that the same IGI records have placed Ayrshire in England.
These records also show that Mungo was born at Abercairney 'About 1564' and, that he and his wife, Miss 'Halkett of Pitfirrane,' were married 'About 1598'.
The location of the marriage is not given. Additionally, it states that Halkett was born 'About 1577'.
As far as his life and career are concerned, this writer is content to simply record that Sir Robert Moray was at various times: A Spy; a Quartermaster- General for the Covenanters Army; Privy-Counsellor; Lord Justice-Clerk, and Lord of Session in Edinburgh.
He was also imprisoned, though later cleared, for attempting to assassinate Charles II; this, despite at one time leading a Scots rising against Oliver Cromwell.
Sir Robert was certainly a busy gentleman.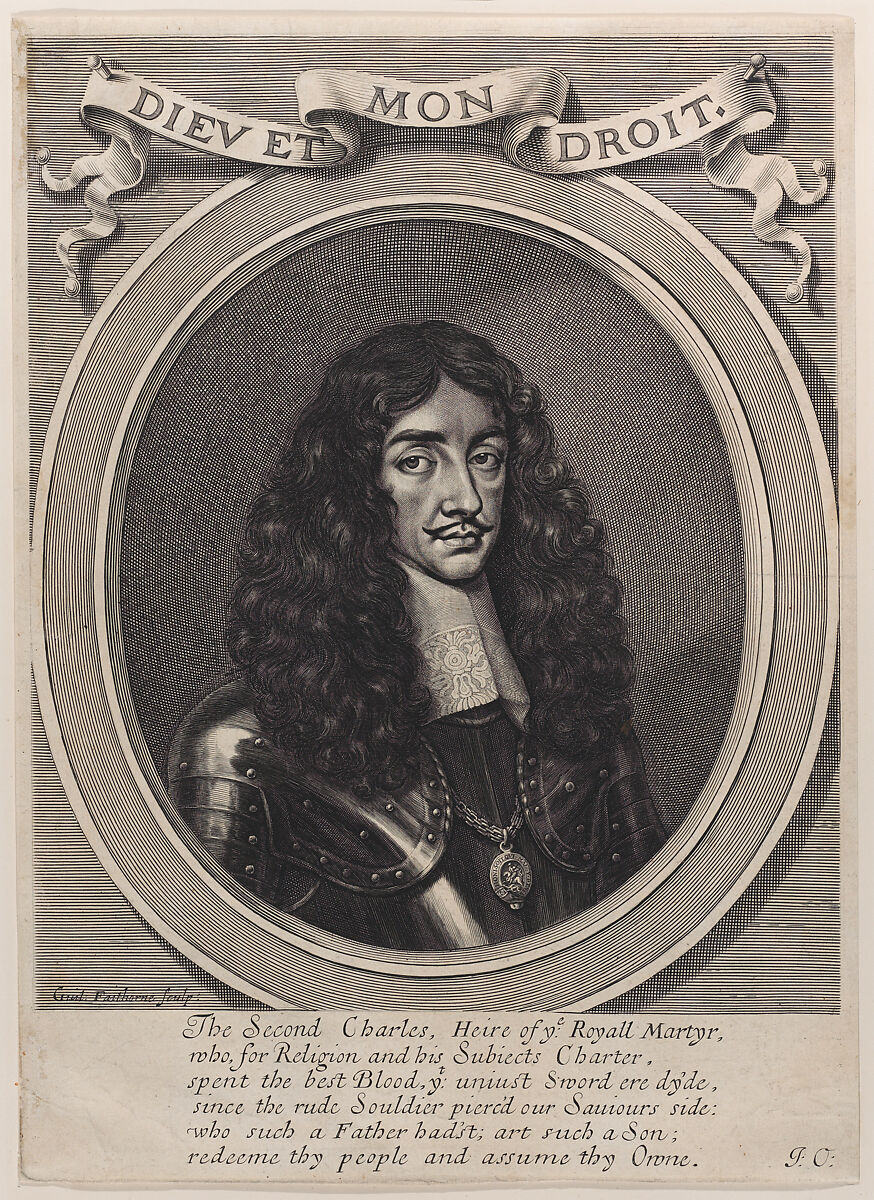 King Charles II, William Faithorne the Elder (British, London ca. 1620–1691 London)
IMAGE LINKED:  Met Museum Attribution 4.0 International (CC BY 4.0)
However, he is probably best known as a founder of the 'Royal Society of London for the Improvement of Knowledge', known simply as 'The Royal Society' which Sir Christopher Wren and later Albert Einstein, among many other eminent persons were members, and which was devoted to scientific progress.
Moray had founded a Scientific Society in London in November,1660, and after receiving Royal Assent and a Royal Charter from the newly restored King Charles II, it became known by the current title in January 1661.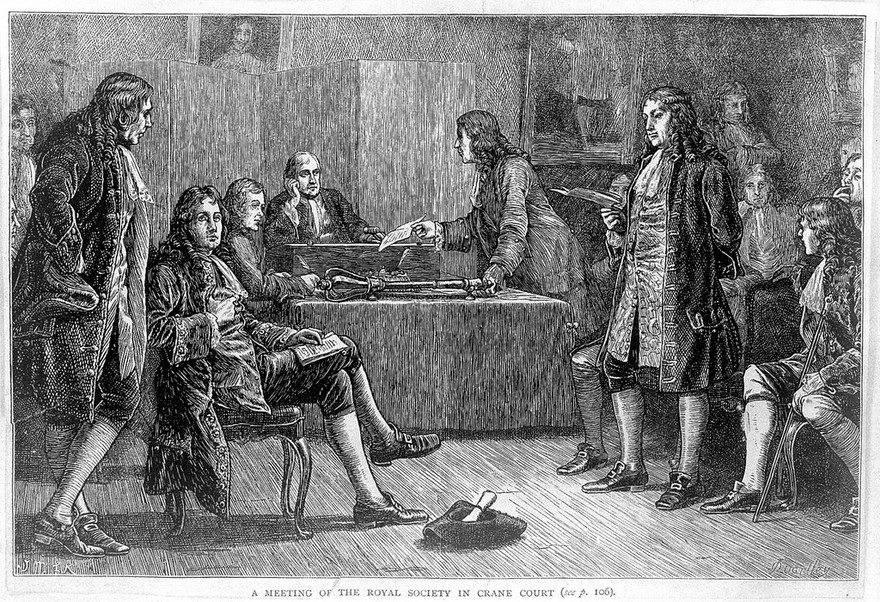 Royal Society, Crane Court, off Fleet Street, London: a meeting in progress, with Isaac Newton in the chair. Wood engraving by J. Quartley after [J.M.L.R.], 1883.
IMAGE LINKED:  wellcome collection Attribution 4.0 International (CC BY 4.0)
On 20 May, 1641, Moray was initiated into the Craft at Newcastle in the North of England by members of the Lodge of Edinburgh (St. Mary's Chapel) No.1, who were serving with the Covenanters army in that part of the country.
Despite being held in very high regard by Freemasons today, Sir Robert's actual attendance at lodge appears to have been very minimal indeed; notwithstanding, Stevenson has this to say of Moray's contribution to Freemasonry:
Sir Robert Moray cannot be taken to be a typical mid-seventeenth-century Freemason.

The fact that he reveals so much about what masonry meant to him in itself makes him unique.

But he does encapsulate in his career and interests many of the forces that were shaping Freemasonry.

He also illustrates another change taking place in the movement.

In his interests in Hermeticism, Rosicrucianism, alchemy, and symbols he typifies the late Renaissance influences which had given birth to Scottish Freemasonry in the era of William Schaw.

In his scientific interests, his deistic tendencies, his cult of friendship and sociability he reflects influences which look ahead to the age of Enlightenment rather than the age of Renaissance.

So far as is known he was unique in his lifetime (with the partial exception of Elias Ashmole) in combining these elements with the older heritage of Freemasonry.

But he points the way to the future, for in time these influences on Freemasonry, were to adapt the craft to give it new relevance to a changing society, making it possible for it to sweep across Europe in the mid eighteenth century. [1]
Facsimile of the Minute of the Admission of Quarter-Master-General Sir Robert Moray, by a Quorum of the Lodge of Edinburgh at Newcastle, in 1641.
Moray's signature is bottom right (note the use of a five-pointed star as his mark)
Source: History of the Lodge of Edinburgh (Mary's Chapel) no.1. Embracing an account of the rise and progress of freemasonry in Scotland.
By Lyon, David Murray, Blackwood & Sons, London, 1873.
The Morays of Abercairney were a family of minor nobility who were related to the Murrays of Atholl and Tullibardine, and as such, connected to the Dukes of Atholl, who of course have their own illustrious history in the Craft in Scotland and the United Kingdom.
The ancestral seat of the Abercairney Morays was Abercairney Estate, situated approximately 4 miles east of the town of Crieff in Perthshire.
It is necessary to provide only a potted history of this great family. The Moray family is said to derive from Freskin – a Fleming, who settled in Scotland during the time of King David I.
Freskin obtained from that King, a section of land situated within an area known as 'Strathbrock', within the County of Linlithgow.
In 1130, Freskin assisted the King in suppressing a revolt by the so-called Moray-men and as a reward for his assistance and loyalty received a further gift of some of the most productive land in Moray.
Freskin's family appear to have taken the name of De Moravia (of Moray).
Freskin had only one son, William De Moravia, who in turn had two sons, William and Hugh.
William married the daughter of David De Olifard of Bothwell, and as a result acquired the lands of Bothwell and the title that went with it.
The couple had a son, Walter De Moravia (William is reputed to have had other sons who subsequently propagated other houses including the Murrays of Tullibardine and Atholl) who married a daughter of Duncan, Earl of Fife, with whom he had sons William and Andrew.
William succeeded his father, but died without issue, so he was succeeded by his brother Andrew, who appears to have been the first to use the modern name Moray in 1293.
Sir Andrew was a supporter of William Wallace in his quest for Scottish independence; he married a daughter of Sir John Cumin, Lord of Badenoch, and was killed at the Battle of Stirling.
He was succeeded by his son, also Sir Andrew, who married Lady Christian Bruce, sister of Robert I of Scotland.
His second son, William, acquired the Barony of Drumsargard from an uncle, also called William, in 1290.
William's name appeared amongst the signatures of Scottish noblemen, who wrote a letter to Edward I regarding a proposed marriage between Queen Margaret of Scotland and Price Edward of England.
This writer has not viewed the letter, but it was presumably favourable to the marriage, as in 1296 we find William taking an oath of allegiance to the English King. William died around 1300.
William Wallace
IMAGE LINKED:  wikimedia Attribution 4.0 International (CC BY 4.0)
William was succeeded by his son, Sir John Moray, who was a very important figure in his day, and was styled in various writs Dominus de Drumsargard.
In 1299 he married Lady Mary, daughter of Malise, the sixth Earl of Strathearn and as a consequence, he acquired the lands of Abercairney.
We therefore arrive at that point in history where the Moray family became the Lairds of Abercairney.
As it is not the purpose of this paper to discuss in detail the entire genealogical history of the Moray family, but rather to highlight Sir Robert Moray's association with the Perthshire area in general, and Abercairney in particular; the writer will take the liberty of fast-forwarding a few centuries where we find the Moray family still firmly ensconced on their lands at Abercairney.
In 1558 William Moray of Abercairney died, and having no family himself, the estate passed to his brother, Robert Moray.
In 1560, Robert Moray married Catherine Murray, daughter of William Murray of Tullibardine (and therefore a distant cousin) and the couple had a large family, namely: William, David, Mungo, John, Andrew, James, Nicholas, and Anne.
The third child, Mungo, is father of the subject of this paper: Freemason and Royal Society founder, Sir Robert Moray.
Mungo, who was later knighted Sir Mungo Moray, married a daughter of 'George Halket of Pitfirran'.
The couple had a number of children, the two most famous being Sir William Moray, a Master of Works to King Charles II, and of course, Sir Robert Moray.
An early edition of John Burkes' A genealogical and heraldic history of the commoners of Great Britain & Ireland described Sir Mungo's eldest son Robert as: Lord Justice Clerk; one of the commissioners of the treasury; and, President of the Royal Society.
The present writer has obtained no further information concerning Sir Mungo's direct line.
Sir Robert Moray himself was married only briefly to Sophia Lindsay, sister of the 1st Earl of Balcarres, and she died during childbirth in January 1653.
We shall therefore discuss another branch of the family. Mungo had a brother, William, who was the family heir.
This gentleman, Sir William Moray of Abercairney, had a son also called Robert, a first cousin of our subject.
This Robert married Helen Bruce, daughter of Alexander Bruce of Cultmulundie.
The couple had a son William, who succeeded his grandfather Sir William Moray of Abercairney on the death of the latter in 1640.
This William is said to have been a 'devoted Royalist'. He married Anne Hay, daughter of George Hay of Keillour and had a son Robert, who would become Sir Robert Moray of Abercairney.
As the foregoing indicates, this Sir Robert Moray was succeeded by his son Sir William Moray. 
William took little or no part in public affairs, preferring to spend his time on the family estate, enjoying the fruits of the labours of his illustrious ancestors.
William married Elizabeth, daughter of Thomas Graeme Esq. of Balgowan and when he died in 1735, was succeeded by his only son James Moray Esq.
James married Lady Christian Montgomery, the daughter of Alexander, the ninth Earl of Eglinton. The couple had several children and James was succeeded by his elder surviving son, Alexander Moray Esq.
Alexander died without issue, and was succeeded by his only surviving brother, Colonel Charles Moray of Abercairney.
Colonel Charles Moray of Abercairney married the eldest daughter and heiress of William Stirling of Ardoch (Ardoch is situated in Braco which is a small village only a few miles from Crieff) following which he adopted the double-barrelled surname Moray-Stirling, presumably to preserve the Stirling name.
The couple had a number of children, including William Moray-Stirling of Ardoch who inherited the lands and titles of his parents.
William Moray-Stirling of Ardoch and Abercairney was a long-serving Major in the Army, spent considerable time in India, and was present at the Battle of Waterloo in 1815 where he was severely wounded. [2]
LOCAL MASONIC ASSOCIATIONS
Major William Moray-Stirling served as Master of this writer's Mother Lodge, Lodge St. Michael No. 38, on the Roll of the Grand Lodge of Scotland, between 1844 and 1849, and died in 1859. 
It can also be pointed out that another branch of the same extended family, the Murrays, formerly of Ochtertyre Estate, situated just outside Crieff, also provided the same Lodge with a number of Masters over the years. [3]
Lodge St. Michael No. 38
Undoubtedly, the Morays' were a very significant family in Perthshire over a period of many centuries, a family which contributed a number of interesting and significant characters to Scottish History; none more so of course, than Sir Robert Moray the Freemason, who is still held in such veneration by the Craft today, and who contributed much to the history of Freemasonry and the advancement of Science.
The fact his extended family had such close associations with Lodge St. Michael No. 38, is something which Crieff Masons in particular, and Perthshire Freemasons generally, can feel justly proud.
Footnote
Resources
[1] STEVENSON, David. The Origins of Freemasonry: Cambridge University Press (2005) p189. 
[2] BURKE, John. A Genealogical and heraldic history of the commoners of Great Britain and Ireland, Volume 1: Henry COLBURN, London. (1906) pp 619 – 623.
[3] Lodge St. Michael No. 38 website:  http://lodge38.bravehost.com/
Article by: Kenneth C. Jack
Kenneth C. Jack  FPS is an enthusiastic Masonic researcher/writer from Highland Perthshire in Scotland.
He is Past Master of a Craft Lodge, Past First Principal of a Royal Arch Chapter, Past Most-Wise Sovereign of a Sovereign Chapter of Princes Rose Croix.
He has been extensively published in various Masonic periodicals throughout the world including: The Ashlar, The Square, The Scottish Rite Journal, Masonic Magazine, Philalethes Journal, and the annual transactions of various Masonic bodies.
Kenneth is a Fellow of the Philalethes Society, a highly prestigious Masonic research body based in the USA.
The Invisible College : The Royal Society, Freemasonry and the Birth of Modern Science
By: Robert Lomas (Author)
In 1660, within a few months of the restoration of Charles II, a group of 12 men, including Robert Boyle and Christopher Wren, met in London to set up a society to study the mechanisms of nature.
At a time when superstition and magic governed reason, the repressive dogma of Christian belief silenced many, and where post-war loyalties ruined careers, these men forbade the discussion of religion and politics at their meetings.
The Royal Society was born and with it modern, experimental science. This book is a study of the turbulent political, economic and religious background to the formation of the Royal Society – an era of war against the Dutch, the Great Plague and the Great Fire of London.
It aims to make readers reassess many of the key events of this period, showing how Freemasonry, supported by Charles II, was the guiding force behind the birth of modern science, under the cover of the Royal Society.
Recent Articles: Kenneth C. Jack
Rosicrucianism and the Gowrie House Mystery
Unearth the mystifying intersections of Rosicrucianism and the infamous Gowrie House Mystery. Dive into speculative claims of sacred knowledge, royal theft, and a Masonic conspiracy, harking back to a fateful day in 1600. As we delve into this enthralling enigma, we challenge everything you thought you knew about this historical thriller. A paper by Kenneth Jack

Thomas Telford's Masonic Bridge of Dunkeld
Of course, there is no such thing as a 'Masonic Bridge'; but if any bridge is deserving of such an epithet, then the Bridge of Dunkeld is surely it. Designed by Scotsman Thomas Telford, one of the most famous Freemasons in history.

The masonic and orange orders: fraternal twins or public misperception? "Who's the Mason in the black?"

Kenneth Jack's research reveals James Murray, 2nd Duke of Atholl – the 'lost Grand Master'

An Oration delivered to the Annual Burns and Hogg Festival, at Lodge Canongate Kilwinning, No. 2, Edinburgh, on 24 January 2018. By Bro. Kenneth C. Jack, FSAScot FPS, Past Master, Lodge St. Andrew, No. 814, Pitlochry.

William Winwood Reade was a Scottish philosopher, historian, anthropologist, and explorer born in Crieff, Perthshire, Scotland. The following article by Kenneth Jack, provides some hints that William may have been a Freemason, but there is presently no definitive evidence he was.

What's in a name? A brief history of the first Scottish Lodge in Australia - By Brother Kenneth C. Jack, Past Master, Lodge St. Andrew, No. 814, Pitlochry

Sir Francis Bacon and Salomon's House
Does Sir Francis Bacon's book "The New Atlantis" indicate that he was a Rosicrucian, and most likely a Freemason too? Article by Kenneth Jack

George Blackie – The History of the Knights Templar P.4
The final part in the serialisation of George Blackie's 'History of the Knights Templar and the Sublime Teachings of the Order' transcribed by Kenneth Jack.

George Blackie – The History of the Knights Templar P.3
Third part in the serialisation of George Blackie's 'History of the Knights Templar and the Sublime Teachings of the Order' transcribed by Kenneth Jack.

George Blackie – The History of the Knights Templar P.2
Second part in the serialisation of George Blackie's 'History of the Knights Templar and the Sublime Teachings of the Order' transcribed by Kenneth Jack.

George Blackie – The History of the Knights Templar P.1
First part in the serialisation of George Blackie's History of the Knights Templar and the Sublime Teachings of the Order – by Kenneth Jack

Little known as a Freemason, Bro Dr Robert 'The Bulldog' Irvine remains a Scottish rugby legend, and his feat of appearing in 10 consecutive international matches against England has only been surpassed once in 140 years by Sandy Carmichael.

Rev. J.B. Craven: Theologian, Historian, Freemason, And Rosicrucian Scholar
Archdeacon James Brown Craven is one of those unsung heroes of Scottish Freemasonry about whom very little has been previously written – here Kenneth Jack explores the life and works of this remarkable esoteric Christian.

Discover the powerful family of William Schaw, known as the 'Father of Freemasonry'

This month, Kenneth Jack invites us to look at the life of Sir William Peck; - astronomer, Freemason and inventor of the world's first electric car. A truly fascinating life story.

A Tribute to Scotland's Bard – The William Robertson Smith Collection
With Burns' Night approaching, we pay tribute to Scotland's most famous Bard – The William Robertson Smith Collection

The Joy of Masonic Book Collecting
Book purchasing and collecting is a great joy in its own right, but when a little extra something reveals itself on purchase; particularly with regards to older, rarer titles..

Masons, Magus', and Monks of St Giles - who were the Birrell family of Scottish Freemasonry?

The 6th Duke of Atholl - Chieftain, Grand Master, and a Memorial to Remember
In 1865, why did over 500 Scottish Freemasons climb a hill in Perthshire carrying working tools, corn, oil and wine? Author Kenneth Jack retraces their steps, and reveals all.

Charles Mackay: Freemason, Journalist, Writer
Kenneth Jack looks at life of Bro Charles Mackay: Freemason, Journalist, Writer, Poet; and Author of 'Tubal Cain'.

A Mother Lodge and a Connection Uncovered, a claim that Sir Robert Moray was the first speculative Freemason to be initiated on English soil.

What is it that connects a very old, well-known Crieff family, with a former President of the United States of America?

The life of Bro. Cattanach, a theosophist occultist and Scottish Freemason

The Mysterious Walled Garden of Edzell Castle
Explore the mysterious walled garden steeped in Freemasonry, Rosicrucianism, and Hermeticism.

Dr. George Dickson: Scottish Freemason and Occultist
Bro. Kenneth explores the life of Dr George Dickson a Scottish Freemason and Occultist

The Colour Purple - Its Derivation and Masonic Significance
What is the colour purple with regards to Freemasonry? The colour is certainly significant within the Royal Arch series of degrees being emblematical of Union.

Bridging the Mainstream and the Fringe
Edward MacBean bridging mainstream Freemasonry with the fringe esoteric branches of Freemasonry

Freemasonry in the Works of John Steinbeck
We examine Freemasonry in the Works of John Steinbeck

Renegade Scottish Freemason - John Crombie
Who was John Crombie and why was he a 'renegade'?

Scottish Witchcraft And The Third Degree
How is Witchcraft connected to the Scottish Third Degree

to be a better citizen of the world
share the square with two brothers
click image to open email app on mobile device